All climbers need a certain amount of power endurance.  Without good power endurance, you will find yourself in the situation of being able to do all the moves on your projects, but failing because you are unable to link them in a single continuous effort.  It is because of failing on climbs in this way that we worked with Kris Peters to design our 6-Week Power Endurance Training Program.
While most of us probably associate power endurance more with route climbing, it is just as important for boulderers.  So no matter what kind of climbing you're into, give the workout below a shot and if you like it give the rest of the program a shot.  We guarantee you'll come out of the 6 weeks feeling WAY fitter than when you started!
Sample Workout for 6-Week Power Endurance Workout: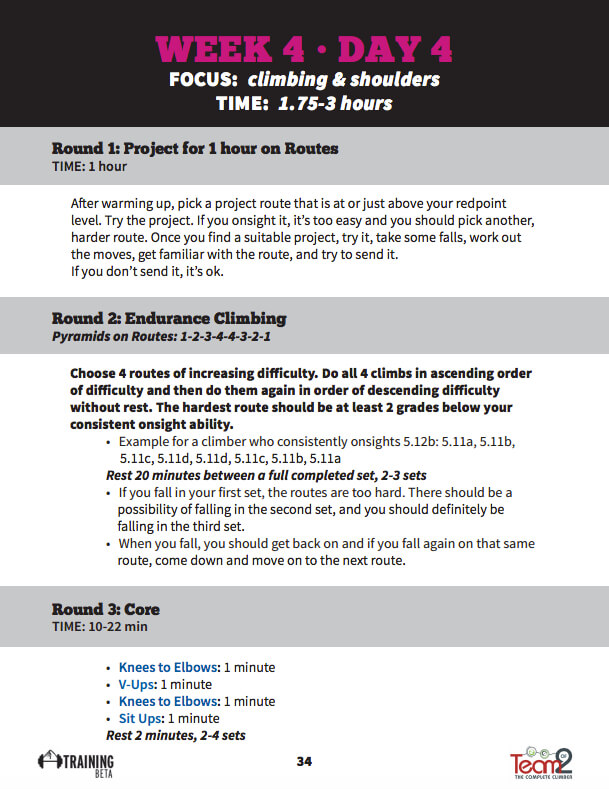 Obviously, since the complete program is 6 weeks long as this workout is taken from the end of the forth week, it is going to be pretty difficult and meant to be built up to through the preceding workouts.  However, we thought it would give you a perfect taste of how Kris Peters designed this training program to work the different facets of power endurance all while increasing your overall work capacity.
TrainingBeta Training Programs:
If you like what you see, click through below to purchase the complete 6-Week Power Endurance Training Program for yourself.  Here's who we think this program is perfect for:
"If you climb between 5.10+ and 5.13+ or boulder between V3 and V11, you'll benefit the most from this program. But all workouts are scalable (Kris tells you how to make it easier or harder), and we'll warn you if you should absolutely not be doing a particular workout (campusing, etc.), and give you a substitute workout to do." – TrainingBeta
If this program does sound like the right fit for you, we offer a variety of programs that train everything from endurance to finger strength.  Check them all out here: Climbing Training Programs.

(photo courtesy of Edwin Teran)
Other Articles You Might Like:
TrainingBeta is a site dedicated to training for rock climbing. We provide resources and information about training for routes, bouldering, finger strength, mental training, nutrition for climbers, and everything in between. We offer climbing training programs, a blog, interviews on the TrainingBeta Podcast, personal training for climbing, and nutrition for climbers.