Get More Power Endurance for Routes or Boulders
With Our 6-Week Power Endurance Training Program
If you find that you can do all the moves on your route or boulder problem projects, but you can't quite put all the moves together, then you have a need for power endurance. This program will help you build it so you can send harder and more quickly than ever before. You'll train for 5 weeks, then have an active rest week, then you're ready to start sending.
4 Unique Workouts Every Week

1 "Optional" Workout for Busy People

Climbing, core, fitness

Campusing, fingerboard

Scalable to every climber

Download ebook to any device

Money back guarantee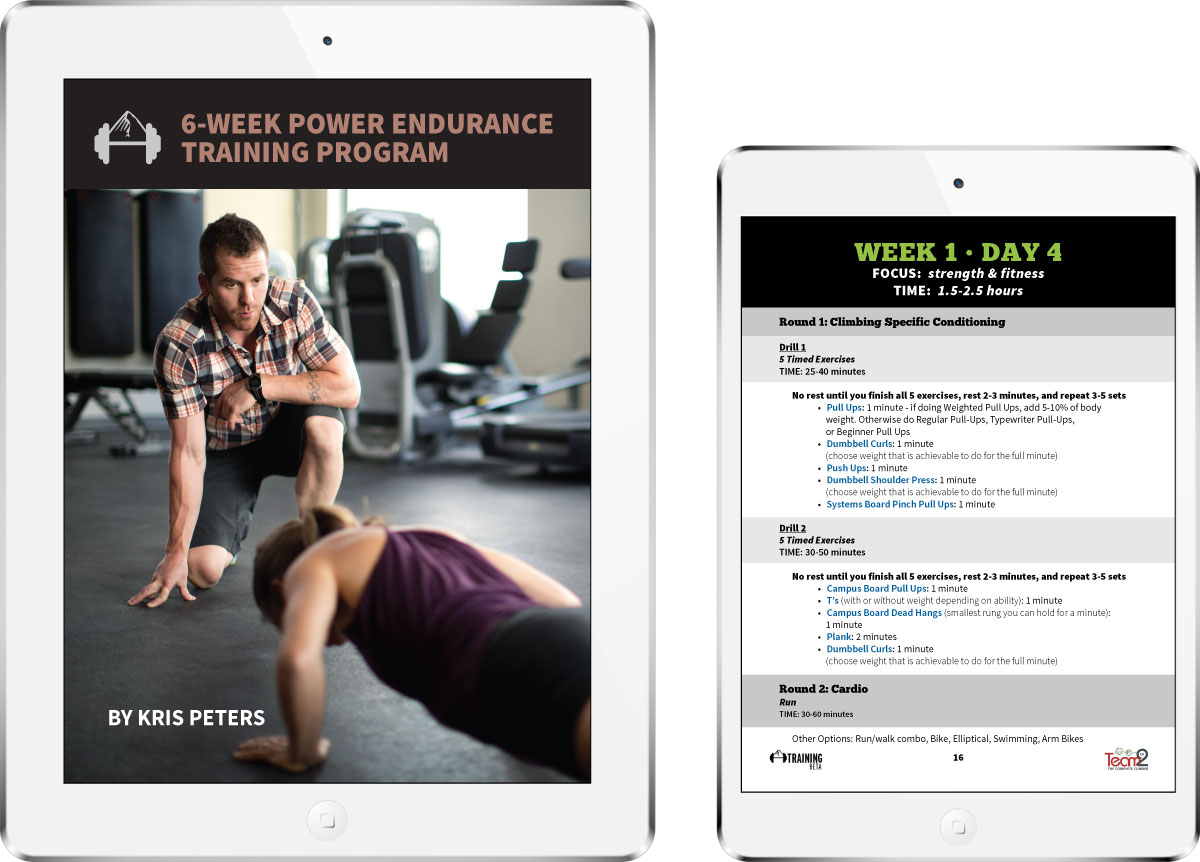 "Thank you! Great Success!"
"After years of being stuck climbing 5.11 my girlfriend convinced me to do your 6-week Power Endurance Program. I kept to the program and did all the optional days. During my performance week I sent 2 5.12a's!! I saw amazing gains and wanted to let you all know the program works and that I am very appreciative."
 – Robert
I was trying routes and boulders that had these long sections of hard climbing, and I kept falling off, even though each move in isolation didn't feel super hard for me. I wanted to get so strong that I could do all those hard moves in a row.
I needed a power endurance climbing training program. Sure, there are plenty of "training programs" out there, but I wanted someone to tell me exactly what to do and when to do it.
I wanted to know:
how many sets
how many reps
how many routes
how many boulders
and how hard they should be
I wanted someone to tell me exactly what to do on the campus board, and exactly what to do in the weight room.  
I wanted to get stronger, but none of the books, websites, or free pdfs online were able to tell me exactly how to do that. Maybe I'm a needy individual, but I wanted a personal rock climbing trainer right next to me, guiding me step-by-step through every workout.
I just didn't want to pay for that.
Personal climbing trainers all cost about $60/hour or more.
Then I realized that you probably want the same thing. I mean, we're all out there competing against ourselves to be the best rock climbers we can be, right? We all want to train to get stronger.
So I called Kris Peters up and asked him to write us all a power endurance training program.
And that's how this training program was born. It's a downloadable PDF that contains 4 workouts per week for any level of climber (it's scalable) to help build power endurance. And it works.

Is This Training Program for You?
If you have a climb you want to send and you can do every move, but you can't do all of them in a row, power endurance is what you need. This program is for boulderers and route climbers alike. You'll need a wall to train on, and if you're a boulderer, you'll just substitute 2 boulder problems for every route that's prescribed in the program.
If you climb between 5.10+ and 5.13+ or boulder between V3 and V11, you'll benefit the most from this program. But all workouts are scalable (Kris tells you how to make it easier or harder), and we'll warn you if you should absolutely not be doing a particular workout (campusing, etc.), and give you a substitute workout to do.
Climbing wall (bouldering or routes)

Running shoes (or a bike – something for cardio)

A pull-up bar

Dumbbells of varying weights

Campus board

Journal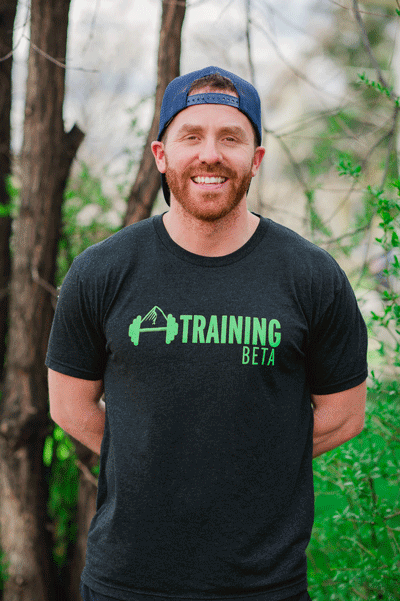 The author of this 6-Week Power Endurance Training Program is Kris Peters of Denver, Colorado. He's one of the top climbing trainers in the U.S., and has worked with pro-level climbers, including Daniel Woods, Sasha DiGiulian, Alex Johnson, Emily Harrington, Matt Segal, Matty Hong, and many others.
However, luckily for the rest of us, he doesn't just work with genetic mutants. He works with climbers of all levels every day, training people one-on-one, in group sessions, and from a distance with climbers all over the world.
Kris has been training climbers since 2010, and athletes of all kinds since 2004. With many certificates as a Personal Trainer, Kris is highly qualified to guide you through this comprehensive climbing training program.

The training plan went great! I have been climbing for around 12 years, I think 8 years of that I have been climbing in the same range of difficulty. After going though the plan I felt stronger and was able to push beyond that difficulty. I have a 2 year old son, run a small business and have another son on the way. The plan was flexible enough for me to fit it my schedule. I am looking forward to running through it again in a few months.
Nathan from Akron, OH
Rock Candy Holds
Thanks for the program – its been exciting. Above all, I was able to have some discipline and not just spend weeks and weeks projecting, which is undoubtedly cool! I feel that I don't get pumped as often/quickly, which is cool because I've been able to rope climb in a more confident way… rests simply became better.
Fernando
When I started training with Kris last year, I thought I knew how to train myself. After a few sessions, I immediately realized I needed a ton of help. Kris showed me how to cross train, motivated me, and kept in touch with me consistently to make sure the training was going well. Without it, there's no way I would've trained well enough to win nationals again! I, of course, kept training with him from then on, and I feel stronger than ever!
Kyra Condie
Pro Climber
The first time I met Kris I knew instantly what we shared in common: passion. He had a passion to meet my training needs, to motivate me, and simply to make me smile. I had a passion of trying to get stronger, mentally and physically, and we worked really well together from the start. Kris is organized and he takes pride in his job, which was a reflection on my improvement in climbing. One thing that stood out to me was his adaptability. When I had ankle surgery last fall, he got creative and worked around even being on crutches. Without him, I would have never made as quick of a recovery. Overall, Kris is a fantastic trainer with the perfect combination of caring about his athlete while maintaining sternness.
Courtney (Sanders) Woods
Pro Climber