By now you've probably seen them: the strap-on kneepads made by Send Climbing?
Whether you've seen one, used one, want one or are just curious about them, listen up:)
This is a review of Send Climbing's Downgrader Kneepad, written by kneebar extraordinaire, Dan Mirsky.  He has been climbing in Rifle for the past decade and knows a thing or two about kneebaring.  He tested the Downgrader Kneepad both bouldering and route climbing and finds it to be the best strap-on kneepad out there…..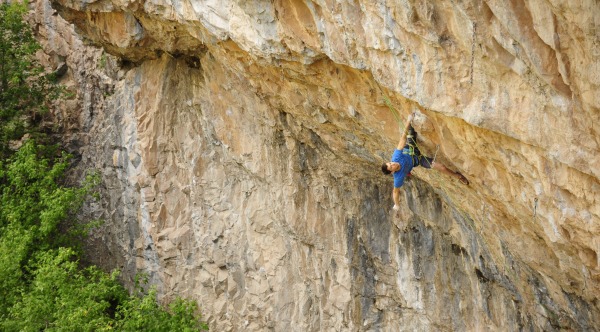 Enter Dan:
I must admit the first time I strapped on the Downgrader Kneepad from Send Climbing I was skeptical.
Previously, I have never had any success with strap-on style kneepads. A strap-on knee pad is usually big and burly with thick rubber and lots of buckles. It is certainly a more substantial piece of equipment than the pull on 'sleeve style' pads I have been using for sport climbing in Rifle over the last decade.
That being said, I strapped on the Send pad, prepared myself for disappointment and was totally surprised with how well it worked and how comfortable it was.
What I came to learn after trying the Downgrader is that a good kneepad can come in different shapes and sizes and 'strap-ons' aren't necessarily a bad thing.
The first thing that you can't help but notice is that this kneepad is handmade with quality materials. The design actually has thought and engineering behind it.
The Downgrader Kneepads are made and designed by Send Climbing which is owned and operated by Glenn and Heather Johnson and John Bishop in Hueco Tanks, TX. All three of them are really strong climbers that understand true kneepad needs.
Some key features that make the Downgrader hands down the best strap-on kneepad on the market:
They have a unique wrap and strap design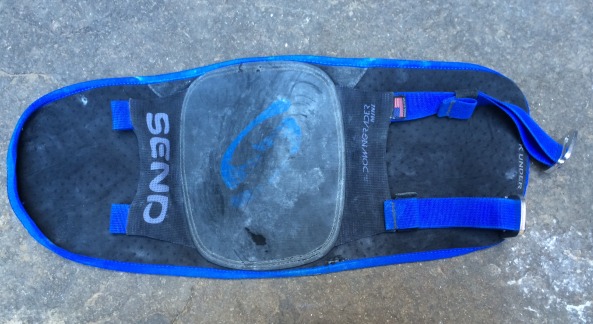 The way the kneepad is constructed, there are two cushioned 'flaps', one on either side of the rubberized center. To put the pad on you simply place the rubber part on your lower thigh and wrap one cushioned flap on the back of your leg and then wrap the other flap over top of that.
You then take the straps, attached to one side of the rubber by a 'stretch mesh' panel , around the back of your thigh and hook the buckles into a another mesh side panel attached to the other side of the rubberized center. Crank the buckles down until the pad is on nice and snug.
The sticky neoprene interior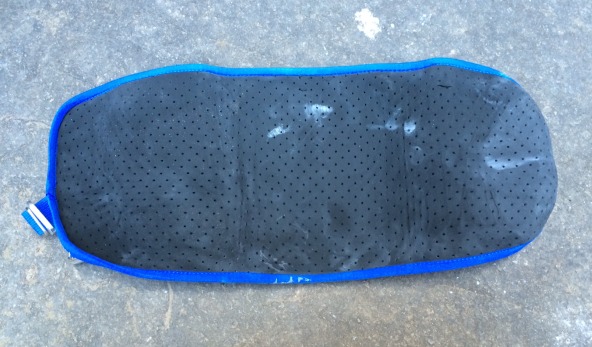 Unlike other pads that start sliding around as soon as your leg starts sweating or won't stick to pants at all, the Downgrader's sticky neoprene sticks to sweaty or dry legs and it is perforated to make it breathable.
Perhaps more impressively, the neoprene sticks to all pant materials better than any pad I have ever tried by far. This also means that you don't have to crank on the straps as hard to keep the pad from sliding.
The amount of cushioning on the back of the leg
I have found virtually every other pad that relies on straps and buckles for securing the pad in place to be unbearably painful. With other strap-on kneepads I've tried, once I start tightening the straps it feels like I am just digging into my femoral artery. The thought of climbing is overtaken by my desire to just not pass out.
The Downgrader is different. The two cushioning flaps as well as the ' stretch mesh' side panel, which can flex and stretch as you move your leg, really do mitigate the pain of having to crank down on the straps to keep the pad in place.
Not to mention: the best part about a strap-on style kneepad?
You don't have to pull the pad on.
No more fighting to get the pad over your foot, you don't even have to take off your shoe.
If you're putting the pad on over pants, you no longer have to awkwardly ask your friend to pull on your pants while you struggle to pull the pad on.
If you are a Boulderer:
You are likely more familiar with the strap-on style pad. The easy on easy off of strap-on (not to mention the lack of duct tape or adhesive spray shenanigans) make it a good choice for boulderers. If that is what is you are used to I can definitively say that the Downgrader is superior in every way to any strap-on pad ever made.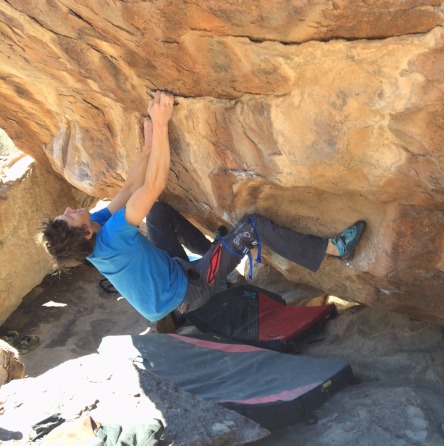 If your background in kneebarring is from sport climbing:
(like myself)
You are more likely familiar with some iteration of a pull on, sleeve style kneepad that requires some combination of duct tap, adhesive spray, shaving your hairy thigh, (or perhaps all three), in order to secure the pad to you leg.
I will say that when proper care is taken with the application, a pull-on style pad may still be the gold standard for the most technical of knee bars and for staying in place during long repdpoint attempts.
With that being said, other than those very particular situations, I found the Downgrader to work as well if not better than a sleeve pad. Plus it takes a fraction of the time to put on and is more convenient in everyway.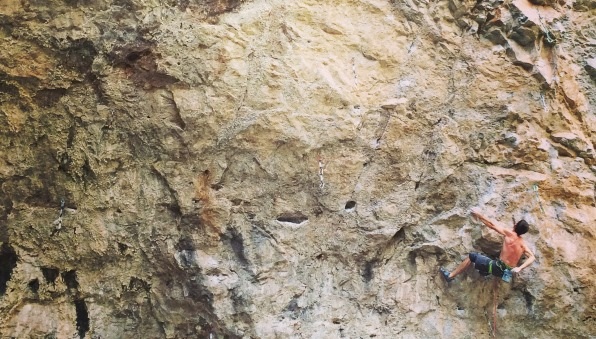 If you are a serious 'kneebarrer' I would say keep your sleeve style pads but add a Downgrader Kneepad to the mix as another weapon in your arsenal. You bring more than one pair of shoes to the crag, don't you???
My only complaint about the Downgrader Kneepad is that the large version (the longer of the two kneepads they make) seemed a bit big and the rubber a bit bulky for someone with a skinnier leg. Send climbing also makes a 'mini', shorter, version that is lower profile and fits smaller.
So, for me personally, the mini kneepad is a better fit and still has enough surface area for virtually all knee bars.
I also found that as I used it I liked the thicker rubber because it had more constitution than softer thinner pads that can stretch and slip under the extreme torque that an aggressive kneebar can apply.
After a short break-in period I would say I even like it better. This is likely going to come down to personal preference just like a softer versus stiffer shoe.
The Downgrader pads are a bit pricey for kneepads.  The large is $70 and the mini is $60. But what you get is a handmade-in-the-USA quality product that works and that Send Climbing will stand behind.
Besides if you are used to the sleeve pad "process" think about how much money you will save on duct tape, adhesive spray and lady bic razors; the pad will pay for itself!
My conclusions about the DownGrader:
If you look in my bouldering kit there is now only one pad, a Downgrader mini. In my sport climbing kit I still have my Rock 'N Resole pads but the Downgrader is now in the regular rotation. It is for sure my favorite over the pant pad.
Whether you are serious about kneebars or just looking for one pad that does everything well, the Downgrader Kneepad should be in your kit.
***To purchase a kneepad from Send Climbing, visit send climbing.com***
TrainingBeta is a site dedicated to training for rock climbing. We provide resources and information about training for routes, bouldering, finger strength, mental training, nutrition for climbers, and everything in between. We offer climbing training programs, climbing training classes, nutrition classes, regular blog posts, interviews on The TrainingBeta Podcast, personal coaching for climbing, and nutrition for climbers.