Recovery Tools
No amount of mobility or recovery work is going to make up for poor sleep, nutrition, and hydration. But, if you cooped up at home, moving and mobilizing your body is going to feel good. Plus, as climbers, lots of us have compromised shoulder mobility and tight hips. With more training time on our hands, why not actually do the mobility work you've been neglecting for years.
Foam rollers are nothing new. However, I see most climbers have shorter, more compact rollers. Sure, these are great in that they take up less space and are more transportable, and they work well for most things. Shorter rollers, however, don't let you lie on them with the roller directly under your spine with support along your entire spine. The first time I did floor angles on a longer roller I never went back to my shorter roller again.
The ArmAid is basically a lever that allows you to apply a lot of pressure to your arms to get at trigger points. It basically allows you to do to yourself what you want a massage therapist to do to you after every session. It can help nagging forearm or elbow issues, or just make you feel less tight.
$23.95 for what's essentially a lacrosse ball?!?!?!? Yeah, I was skeptical too until Nate Drolet let me use his. If you've ever done any self-massage with a lacrosse ball, you've also spent lost of time trying to position the ball so it stays in the right spot. Get one of these and you'll never have to do that again.
Books
The good news about staying at home is that you have some free time on your hands. Rather than burn it all watching Netflix, why not read a book? A lot of what we try to do here at TrainingBeta is to give you immediately actionable training advice. We want things to be clear and simple enough that you can add them to your training right away. That said, climbing isn't that simple and the why behind your training can be important to understand. There's really no short cuts to this quest for knowledge. Here are some of my favorite climbing/training related books to get you started:
I first read Dave MacLeod's book about trying to improve as a self-coached climber almost ten years ago. I remember loving some sections and completely disregarding others. Since then, I've read it two more times. Every time I read it, new points jump out at me. Now, as a coach, I try to read it once a year. If you really want to get the most out of it, use it as a mirror and be ready to do some honest self-reflection.
This book by Josh Waitzkin (the subject of the movie "Searching for Bobby Fisher") is the story of his journey from child chess prodigy to Tai Chi Chuan World Champion. In it, Waitzkin shares the process through which he learns and then masters new skills. While the book isn't about climbing, learning new skills and pursuing mastery is exactly what we should be aiming for in our climbing practice. It will help you learn how to have more control over your learning process. Plus, it's an extremely entertaining read.
Never Let Go is Dan John's first book. If you've never heard of Dan John before, he's an absolutely legendary strength coach, but the subtitle, A Philosophy of Lifting, Living and Learning, should tell you that this is about a lot more than just lifting weights. Honestly, you can and should read any and all of Dan John's books, but you might as well start with the first one.
While the previous two books don't talk about climbing, this one is all about climbing but has nothing to do with training. Freedom Climbers is Bernadette McDonald's account of the golden age of Polish climbing, and how they came to dominate Himalayan climbing in the 1980's and 90's as their country emerged from behind the Iron Curtain following WWII. Get ready for stories of high adventure and total dedication to climbing.
While these are our recommendations for equipment, please remember that if you don't have the funds to buy these things, you can get pretty creative with very little money. For instance, there are tutorials online for how to make a suspension trainer for under $20, you can use heavy household items as weights in some cases, and random household items (like spoons) as massage tools. Whatever you do, don't let the lack of "proper" equipment keep you from getting after it!
About The Author, Matt Pincus
Matt is a boulderer and a sport climber from Jackson, Wyoming. He spends most of his time on the road living out of his van. Matt is responsible for most of the blog posts and social media posts for TrainingBeta and is our head trainer. He's a seasoned climber and coach who can provide you with a climbing training program from anywhere in the world based on your goals, your abilities, the equipment you have, and any limitations you have with time or injuries.
Train With Matt
Matt will create a custom training program designed to help you target any weaknesses so you can reach your individual goals. Whether you need a 4-week program to get you in shape for an upcoming trip or a 6-month program to make gradual strength gains, he'll create a weekly schedule of climbing drills, strength exercises, finger strength workouts, and injury prevention exercises tailored to your situation.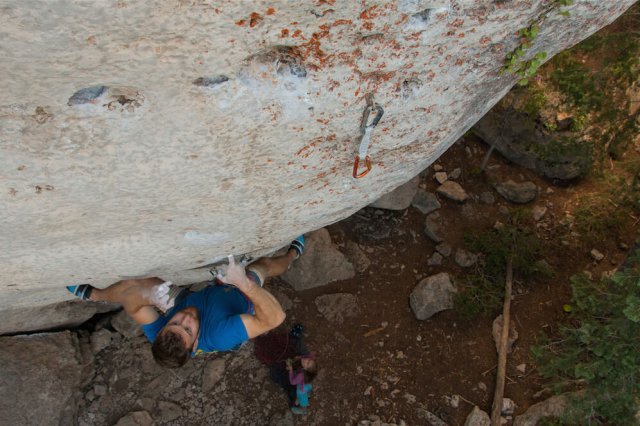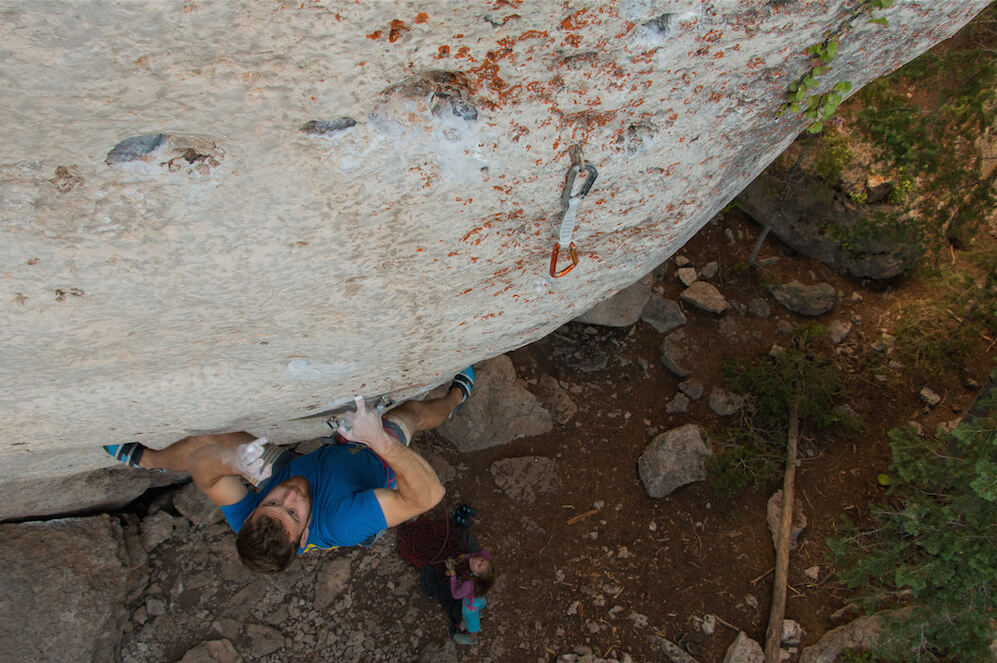 Matt Pincus sending Ghost Moon 5.13d/8b at The Wild Iris, WY
TrainingBeta is a site dedicated to training for rock climbing. We provide resources and information about training for routes, bouldering, finger strength, mental training, nutrition for climbers, and everything in between. We offer climbing training programs, climbing training classes, nutrition classes, regular blog posts, interviews on The TrainingBeta Podcast, personal coaching for climbing, and nutrition for climbers.