As you may know, my husband, Seth, and I live on the road. We spent the fall of '13 in the Red River Gorge. We then went to Chattanooga, where it was so cold that I locked myself in our bedroom most days while Seth went climbing. Needless to say, I got fat and weak.
We showed up in Las Vegas after Chattanooga in desperate need of some training. Luckily, our roommate for the next 2.5 months was to be our friend, the indefatigable, ever-motivated Jonathan Siegrist. The first day we went to train at the "garage", which is a local climber's garage outfitted with a treadwall, weights, a woody, and finger boards, I opted to lie in the sun while Jonathan chided me for being lazy.
It went sort of like that until I got on my new project – a beautiful, tufa-happy, hard, power endurance-y 5.13b called "Day One" (photo above) in the Promised Land in Red Rocks. I realized I was weak as shit and needed to be more like Jonathan (who, by the way, is stronger and leaner than I've ever seen him).
"Tell me what to do," I pleaded.
"Max curls, weighted pull-ups, finger board sessions, treadwall, and campus board. And try harder," he replied.
No big deal.
While I have done all of these things sporadically and independently, I've never truly been on a training program this in-depth. Whenever I've been coached, it's been almost exclusively climbing with some bodyweight exercises thrown in, and I've gotten injured from over-training this way, so I've been hesitant to get on a program since then. But I was ready to get strong again, and I did what he told me to do. And it started working.
Here's my climbing training plan designed by J-Star.
Curls and Weighted Pull Ups
The curls (here's a video) helped me hold onto my sidepull and undercling clipping holds. I could feel the difference after 2 lifting sessions. My max curl went from 25 to 30 pounds (I'm about 100 lbs, for reference), and by the end I could do 5 sets of 2-3 reps at 30 pounds. Your "max" is technically the highest weight at which you can complete one rep of an exercise. For my purposes – gaining power – I just didn't want to be able to do more than about 3 reps. When I got to 2, I'd usually have to assist myself with the 3rd rep, and then I'd try to lower the weight down as slowly as I could as a solid negative rep.
I used the rings for weighted pull ups, and I used a 25-pound barbell on my harness as weight. Here's a video to show you what I mean. I do about 5 sets of 3 pull ups, and by the end, sometimes I scream while I'm doing it because it's so difficult. I was doing both these things about 2 times a week.
My project started getting easier and easier, and the clips finally all became possible.
Treadwall
The treadwalling was good for my head and for my fitness. My route was about 25 degrees overhung, and it's 21 moves long with one shitty rest, all on crimps and crimpy sidepulls and underclings. There's a tiny crimp route on the treadwall, so to begin with I'd try to do 15 moves in a row on that route. I could hardly do it. After a few sessions, I was doing 25 moves in a row on the crimp route at a steeper angle than my route. I focused a lot on my breathing, relaxing, and using as little energy as possible. I'd try to do 20 to 25 moves in a row 5 times with about 5 minutes of rest between reps. This helped my confidence more than anything I think.
In the past I've used the treadwall to train endurance. I'd do lap after lap and try to stay on for a certain amount of time. I realized that this particular route was more about doing powerful moves, and only a certain number of them in a row, so that's why I changed my tactic from doing many easier moves in a row on the treadwall to just enough hard moves to give me the power endurance I needed.
My high points on my route got higher and higher, until I was falling at the hardest move, 3 moves from the top. So I consulted Jonathan again, frustrated after another failed attempt on my route, which I'd been on about 17 times at that point. The last move of the route is the hardest, which is not the kind of route I've ever really attempted before. All my routes 5.13a and harder have had massive rests in the middle and cruxes at the beginning or right after the rest. I needed to be able to recruit for this route like I'd never really done before.
Campus Board
He told me to start campusing, which I'd really failed to do up until then. He said to take a week off of my project and boulder + campus twice and do a fingerboard + treadwall session once. I campused on Monday and Thursday, and did a fingerboard workout on Wednesday.
The reason for the campusing was that I was failing because I'd grab this one shitty hold at the top and not be able to reel it in. My mind was ready, I wasn't that pumped, but for some reason I couldn't reel in the crimp so that I could move right and match the hold. I could grab it, but my muscles weren't recruiting fast enough to let me hold on. I'd fallen off that hold about 5 times at that point from the ground.
So my campus sessions were to help me recruit all my muscle fibers at the same time very quickly upon grabbing a hold. You're forced to do that on a campus board because you've got no feet or technique really to help you stay on the wall – just quick muscle recruitment.
Here's the workout he gave me. Now, this is the workout he gave me, and it's not necessarily what you should do. But it's a template to start with. I'm 5'0″ with a negative 1″ ape index, so these reaches may be way too short for you. I've worked on a campus board before, although not on a regular basis, and I've been climbing for 16 years very regularly, so he trusted I wasn't going to hurt myself doing this. This workout takes about an hour and 30 minutes to 2 hours, depending on how long you rest between sets. Make sure you write down everything you do so you can track progress.
1. Warm up on moderate boulders (for me that's V2-V5 at the particular gym I was at in Vegas) for about 45 minutes .
2. Warm up on big rungs (video):
Ladders from 1-5, match top
Alternate starting hand each set (so first time up, start with your left hand, next time up start with your right hand, etc.)
8 sets (one time up is a set)
2 min rest between each set
2. Medium-sized rungs, short then long move:
1-2-4-match, drop off (so match both hands on 1st rung, then go up one hand to 2nd rung, then pull through with other hand to 4th rung, match, drop off)
Alternate starting hand
8 sets (one time up is a set)
2-3 min rest between sets
3. Medium rungs, long then short move:
1-3-4-match, drop off (so match both hands on 1st rung, then go up one hand to 3rd rung, then pull through with other hand to 4th rung, match, drop off)
Alternate starting hand
8 sets (one time up is a set)
2-3 min between sets
4. Medium rungs, Long move (video):
1-4-match, drop off (so match both hands on 1st rung, then go up one hand to 4th rung, match hands, drop off)
Alternate starting hand
8 sets (one time up is a set)
2-3 min between sets
5. Big rungs, Double bumps:
1-2-3-2-1 (match both hands on 1st rung, at the same time move both hands up to 2nd rung, then 3rd, then back down)
Move both hands at the same time
5 sets
2-3 min between sets
The first time I did this workout, I could only do about 1/3 of the sets successfully. Sometimes I'd complete half the moves in a set, or I'd get to the top rung but not be able to match it and fall. I couldn't do any of the double bumps. My brain just wouldn't let me do it for some reason.
The second time I did this session, I did more like 1/2 of the moves. I couldn't for the life of me match the long move, especially going up left hand first. The third time, though (just this week), I did every single set successfully like it was my job, even the double bumps. It felt almost easy, so I'm about to make the workout harder.
This shit works.
Finger Board Workout
He also instructed me on my finger board workout. He uses the Moon board, but I used the BeastMaker because it's, um, not excruciating. By the way, I'd sliced the tip of my finger off, so I wasn't using all of my fingers in the pic below – that's not my normal form.
So for the workout, I'd do the following. This workout takes about an hour and a half. 
Hold onto a set of holds for 7 seconds with no feet on
rest 3 seconds
repeat
Do that for 7 reps
Rest 3 minutes
Increase weight on me by 5 pounds (or decrease weight taken off of me with pulleys) and do the same thing, but only do 6 reps
Rest 3 minutes
Increase weight on me by 5 another pounds (or decrease weight taken off of me with pulleys) and do the same thing, but only do 5 reps
Rest 3 minutes
I'd do that with about 6 grips using an open-handed crimp position, unless otherwise noted
4 fingers on small crimp
2 finger pocket with pointer and middle finger ("1st team")
2 finger pocket with middle and ring fingers ("2nd team")
4 fingers locked off crimping small crimp
3 finger crimp (pointer, middle, ring)
pinches
You should have a pulley system set up for this in order to take weight off. You want to be almost failing or completely failing close to the end of each set of 7, 6, or 5 reps. You don't think you'll need the weight taken off because it's only 7 seconds, right? Well, you might be surprised how hard it is! This works finger strength, and I've been doing it about once a week after warming up on the treadwall or after climbing outside.
Oh, and during my week off from my project, he had me do one workout where the only thing I did (after treadwalling) was to go from deadhanging to a locked off crimp instead of just deadhanging. That was to help me grab that last hold on my route and actually reel it in.
So how did this manifest in my climbing?
Well, I didn't do the route. I went up one last time after that week of training hard and fell off the last move, damn it. BUT I got through the part that I'd been falling off of! I grabbed the hold, reeled it in, matched it, was NOT pumped, moved to the next crimp (which I had NEVER done before on the go) and then my brain was like, "Holy shit, I can't believe I just did that. I'm nervous so I'm gonna fall off now!" And then we had to move to Mesquite. So I do believe I can do the route! I know the training worked. The difference between me on that route when we first got here weak and fat and me on the route now is night and day. I just need to get on it a couple more times. Maybe next year. There are projects at the Cathedral/Wailing Wall to do now!
Please let me know your thoughts on my J-Star training program, and let me know if you have any questions about anything. I'm happy to explain it if I didn't do a good job of that above. I want to thank Jonathan for helping me so much these last few months. I don't know what I would've done without him! By the way, J-Star isn't a trainer and neither am I, but this is what's working for me – hopefully it'll help you, too, but please do all of these exercises responsibly, taking into consideration your own ability level.
Also, if you were wondering, this is what happens when you ask Jonathan to take a photo of you on the campus board…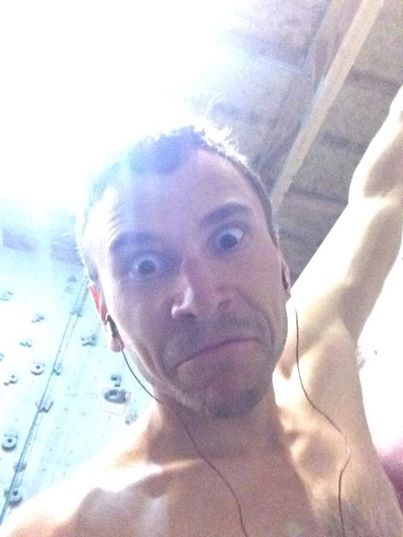 TrainingBeta is a site dedicated to training for rock climbing. We provide resources and information about training for routes, bouldering, finger strength, mental training, nutrition for climbers, and everything in between. We offer climbing training programs, climbing training classes, nutrition classes, regular blog posts, interviews on The TrainingBeta Podcast, personal coaching for climbing, and nutrition for climbers.