ANNOUNCEMENT: Matt Pincus is now offering online classes about how to make the most out of your bouldering sessions. Whether you are training on a home wall or patiently waiting for the gyms to reopen, this class will teach you all you need to know to have an effective bouldering session – no matter what your climbing goals are.  Learn all about it here!
You've heard it before, but I'll say it again: There is more to our climbing performance than just strength. However, due to the pandemic, a lot of us have found ourselves at home without any training equipment and are now looking for alternative methods of training and staying fit. We're most certainly all hangboarding, a large number of us have found ourselves going for runs (and even enjoying it), and lastly, a lot of us are fine-tuning our yoga skills.
Not only can yoga help enhance your climbing performance, but it helps promote a little bit of calm in an otherwise anxious world. Maybe you already practice yoga weekly or even daily, and if that's you, I seriously commend for your commitment to the practice! As you know, a general yoga practice can help develop body awareness, strength, balance, and flexibility— all of which are incredibly important to climbers.
Shoulder and Core Yoga Video
So on that note, today we have a lovely yoga video from Jess Malloy of @yoga.for.climbers on Instagram. Jess is an E-RYT 200 and has been teaching yoga to climbers since 2013. In this video, she shows us her favorite sequences designed specifically for climbers. This flow in particular has the additional benefit of zeroing in on climbing specific needs like stabilizing wrists and shoulders and strengthening the climber's core. You can use this particular practice as a warm-up for your wrists, shoulders, and core or you can repeat the flow a few times for a challenging workout!
We hope you enjoy the video below and find it useful even beyond the pandemic!
Heads up: This flow is particularly shouldery, so it can feel a little intense if your shoulders are already fatigued, or if they're prone to getting tired quickly. Definitely modify certain poses or fold into child's pose if you need to skip a couple of repetitions. Please, check in with yourself before you wreck yourself.
(Photo credit: Andrew Wingert)
If you're interested in more direction for at-home training, check out our simple & effective COVID-19 At-Home Training Program, designed for any level of climber with any amount of equipment available- even if that's just a single edge.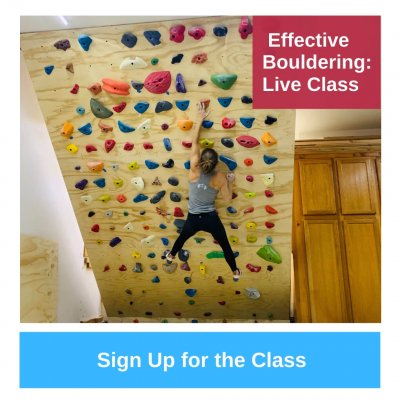 TrainingBeta is a site dedicated to training for rock climbing. We provide resources and information about training for routes, bouldering, finger strength, mental training, nutrition for climbers, and everything in between. We offer climbing training programs, climbing training classes, nutrition classes, regular blog posts, interviews on The TrainingBeta Podcast, personal coaching for climbing, and nutrition for climbers.