Discover How to Stay Motivated and Improve Your Climbing Strength While Stuck at Home Using Minimal Equipment
At-Home Climbing Training Program
This at-home training ebook is a simple but effective program for people who want guidance on how to continue gaining strength at home while the climbing gyms are closed. Written by trainer Matt Pincus, it provides three finger strength protocols plus a wide selection of strength conditioning workouts to choose from, all depending on what equipment you have available. This program will keep you busy and productive, even if you only have a single edge to pull on and your bodyweight to train with.
Here's What You're Going to Get
• A training ebook that you'll be able to access on any device. Smart phone, computer, iPad… you name it. You'll be able to use this at home and even take it to the gym on your phone whenever it opens up again.
• 3 different finger strength protocols to choose from that are good for any level climber. You'll be able to use these to build beastly finger strength in a safe and calculated way, even if you've never used a hangboard before.
• The "Simplest" finger training protocol you'll ever find, designed by Dr. Tyler Nelson
• Strength circuit workouts to get your heartrate up and strengthen your climbing muscles while you're not able to get to the gym or crag
• Strength training workouts so that you can stay fit, even if you don't have a hangboard or any weights to use
• A flexible training schedule that you can do in under an hour 2-4 days a week
What equipment do I need for this program?
We recommend you have some sort of finger training device or edge to hang from, but you'll be able to do all of the other strength exercises with just bodyweight alone.
No fuss, no excuses – love it. 
"I just downloaded the ebook over breakfast, glanced over it quickly and then logged a strength training circuit before noon. Thank you so much! I love how simple the exercises are, and organized by equipment available. Very streamlined and little orientation needed (then again, I am familiar with many of the exercises). No fuss, no excuses – love it."
-Paula
Definitely Feeling It
"I am really enjoying the training book. I am on day four and definitely feeling it. Thanks so much for putting this together. It is easy to follow and has great information. Loving it so far."
– Chris
About Your Trainer, Matt Pincus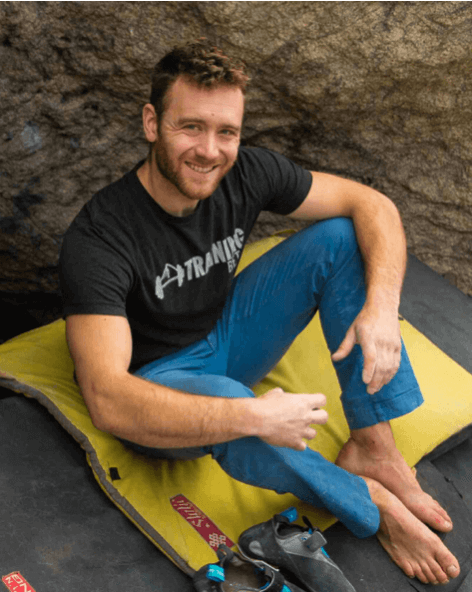 Matt is a boulderer and a sport climber from Jackson, Wyoming. He is the head climbing trainer and content manager at TrainingBeta, and he's been helping his clients reach their climbing goals since 2017. Matt is available to help you personalize this ebook to your situation (see pricing options).
Matt is a seasoned climber, having traveled around the world to climb, sending up to 5.14a and V12. And he's a remote coach who can provide you with a climbing training program from anywhere in the world, based on your goals, your abilities, the equipment you have, and any limitations you have with time or injuries. Find out more on his coaching page on TrainingBeta.
Enjoying Every Piece of It
"The training program is great and I'm enjoying every piece of it…even when muscle soreness comes to pay a visit. 🙂 I'm fairly new to this climbing world and I still have a long way ahead of me, which is making the whole thing even more exciting."
– Raul