***Did you hear about our first Giveaway in the spirit of Halloween?! One person will get two of the best training resources available– if you enter the drawing, that lucky person could be you! The lucky winner wins a Rock Prodigy Training Center ($120 value) AND a year membership to our Bouldering Strength and Power Program ($149.95 value). Yep. You read that right, you could win both of those amazing training resources. All you have to do is go to the Giveaway Page and enter your email address, and you'll be entered. You have until Wednesday night. Ready….go! And good luck:)***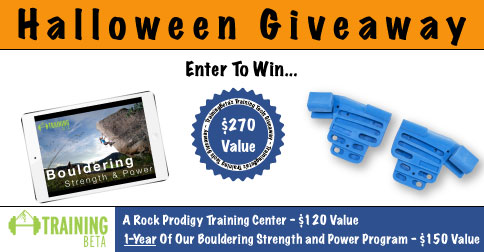 ---
Dave MacLeod wrote this article from onlineclimbingcoach.blogspot.com, about milking one of his strengths when he is training (he does acknowledge the importance in training weaknesses though)….
"I'd say I have one strength that I've milked a hell of a lot, and fortunately it's a gift that keeps on giving. I'm not good at climbing hard, but I like having a hard time."
Think about the things that can feel hard with climbing: fear, failure, nerves of anticipation, etc. What if you could be better about getting psyched to train those specific hard aspects of climbing?  And if by training those things, harder climbing could feel easier?….
"Revelling in the 'hardness' of hard climbing isn't an easy mindset to adopt. What worked for me was simply to remind myself, sometimes subconsciously, sometimes directly, that if whatever I'm trying wasn't hard, it would be easy. I'm not looking to do easy climbs easily. I want to do hard climbs easily. Every hard climb I've ever done has felt easy in the moment of success, but hard right up to that point. Therefore since 99% of climbing time is going to feel hard in all the forms that 'hard' takes, if you enjoy those things then you get on with the journey to that special moment of easiness quicker."
He makes a good point.
He then gives examples of what that type of hard can look like in bouldering, sport climbing, and trad climbing….
"Treat each climb as a worthy enemy. Expect it to lie down and it might be impossible, Expect to be tested and you'll be ready for the test."
Read the full article to learn more about how milking the strength to have a hard time can lead to making hard climbing feel easier…
TrainingBeta is a site dedicated to training for rock climbing. We provide resources and information about training for routes, bouldering, finger strength, mental training, nutrition for climbers, and everything in between. We offer climbing training programs, a blog, interviews on the TrainingBeta Podcast, personal training for climbing, and nutrition for climbers.