***Don't forget to enter our Giveaway for your chance to win a Rock Prodigy Training Center and 1 year of our Bouldering Strength and Power Program!! Details below…***
For those of you who feel like you never have enough time to train, this article may provide some good news. You don't necessarily actually need to spend a ton of time training, as long as you're training efficiently with the time you do have.
This article is written by Mark Anderson from the Anderson brothers' site, rockclimberstrainingmanual.com. He admits some people may find it shocking how little he trains or climbs, but he really believes in the "less is more" philosophy.
He explains that piling on more and more low efficiency training can use up your energy that could be used for more efficient training activities. With more training, more recovery time is warranted. Usually though, the athlete skips the rest and continues to try to train, under-performing. Mark Anderson suggests a different strategy:
 "My strategy for maximizing training efficiency dovetails nicely wtih a complimentary training objective — favoring strength and power training over endurance. This allows me to emphasize high intensity training, which is short in duration, almost by definition (there are brief periods during each season that I focus on endurance training, but even then I favor higher intensity endurance training followed by plenty of rest). Furthermore, I only perform activities that I strongly believe provide a direct benifit to my performance; I don't do any filler or "crosstraining".
Check out the article for his full explanation of training efficiently and to learn more about what his training strategy looks like in calendar format…
(photo courtesy of rockclimberstrainingmanual.com)
---
***Time is almost up to enter our Giveaway!  Here's the deal: in our experience, two of the most important aspects of improving your climbing are having a fingerboard and having a training program.
That's why in this giveaway we're giving one lucky winner:
A 1-Year membership to our own Bouldering Strength and Power Program (worth $149.95)!
Trango's Rock Prodigy Training Center (worth $120)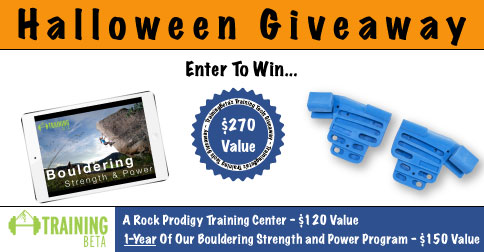 Yep, that's right, the winner gets BOTH of those awesome prizes. You have until Wednesday night (November 5th, 2014) to enter!!  CLICK HERE: Enter the Giveaway!***
TrainingBeta is a site dedicated to training for rock climbing. We provide resources and information about training for routes, bouldering, finger strength, mental training, nutrition for climbers, and everything in between. We offer climbing training programs, a blog, interviews on the TrainingBeta Podcast, personal training for climbing, and nutrition for climbers.