A few weeks ago our good friend and pro-climber, Jonathan Siegrist (Jstar), became the eighth person to ever send Biographie/Realization, the world's first 9a+, in Céüse, France.
This video from EpicTV.com gives a little insight into the story behind Siegrist's send. It shows a glimpse of his lifestyle as a nomad (including his knowledge about hard boiled eggs) and how he stayed mentally and physically poised to takedown this route knowing that success was not certain.
This video proves that perseverance and hard work are worth it….
---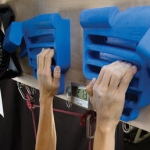 Jstar trained with Mike and Mark Anderson (author's of the Rock Climber's Training Manual) in preparation for his trip to France. Siegrist used the Anderson brothers' hangboard training program to break through a three-year plateau that led to this send of Realization (learn more about their hangboard training program here: Mike and Mark Anderson on Hangboard Training).
TrainingBeta is a site dedicated to training for rock climbing. We provide resources and information about training for routes, bouldering, finger strength, mental training, nutrition for climbers, and everything in between. We offer climbing training programs, climbing training classes, nutrition classes, regular blog posts, interviews on The TrainingBeta Podcast, personal coaching for climbing, and nutrition for climbers.