It's easy to say a lot of climbing is mental. However, improving your mental game isn't as easy or straightforward. Just like training your fingers or improving your technique, improving your mental game takes deliberate and consistent hard work.
What follows is a review of 6 books that professional climber Sam Elias has found particularly helpful for both life and sport. Having climbed, trained, and traveled with Sam extensively, I can personally attest to how important daily reading and contemplation is for him. The books that he covers here aren't about climbing specifically and some don't even deal with athletics at all. The bigger theme is well-being, and they all force you to think critically. Reading and thinking in this way is a central part of both Sam's preparation to climb his best and his desire to maintain a healthy, balanced life.
Whether you read all of these books, one of them, or figure out your own way to be more mindful, we hope that you find these books and Sam's approach to the mental game of climbing helpful. Please let us know.
~ Matt Pincus
You know how when you read a bio/background on someone it's always written in the third person, but you can tell they wrote it themselves? Sam Elias is this and that. Sam Elias is so cool. He's really smart too… I find that lame af.
I was born on August 25, 1982 near Detroit, Michigan, USA and it is where my family still resides. My father is from Syria and my mother's grandparents were all from Poland. I currently base out of Salt Lake City, Utah. Climbing has in part directed my life since 2005.
I don't pretend to know what the hell to do with a life. I was born into one, and I'm just trying to make the most of it. To whom, where and when I was born created a framework, albeit a privileged one. I've taken that framework and made it my own through things that have called to me. They are physical and mental activity, expression, creativity, challenge, and progression with like-minded others – mostly in nature – and balanced with time for solitude, reflection, introspection, learning, calm, and rest.
The activity aspect is easy for me. I am restless, tireless — always on the go. I am easy prey to the "never-enough" mentality — "more" and "harder" and "faster." A while back that overtook me in a substantial way because it's impossible to sustain. It forced a reconciliation and a consideration of quality. More/harder/faster is not always better. I started to explore the scales of balance with notions of slow, rather than go using meditation, mindful listening to podcasts, writing, and reading. The books below have been important to me in one way or another through that process.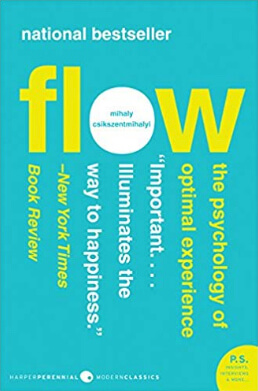 Flow by Mihaly Csikszentmihalyi
This is a seminal work by the Hungarian-American psychologist and is a comprehensive attempt at understanding "optimal experience" throughout a wide variety of outlets. It's a summary based on decades of research to understand the state of existence when a person is totally involved – almost lost and without time – in an activity. This is the book that introduced the concept as "flow" for the first time anywhere, ever.
I was shown this book at 17 years old by a ski racing coach who would become my first real mentor. To this day we are very close. He was the first to show me an approach to sport that included mental and emotional components. It was focused on very quality training, on general happiness, health, and well-being. Under his guidance, I had a breakout season that defied explanation to many.  
The book attempts to explain, and also provide general principles to help cultivate the circumstances for a person to be able to reach this state of existence. The language is understandable and the organization is well-rounded. Sometimes the tone is a bit too optimistic and fluffy for me. I shy away from the concept of "happiness," preferring more balanced sentiments of "calmness" or "contentment" or "peace." Also, in my personal experience, I believe I've found flow in moments of strong negativity, anger, or discontent. I can be really hard on myself, and have/can use negative self-talk as motivation. Regardless, this is an undeniably pivotal work that I've referenced for over half of my life.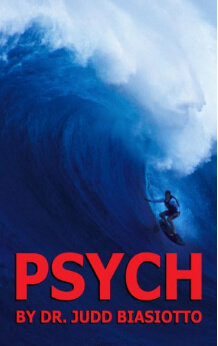 PSYCH by Dr. Judd Biasiotto
This is an interesting account of training the mind and utilizing it foremost. It's told primarily through the direct experience of the author's own dramatic success in the sport of powerlifting and includes a lot of theory, strategy, and methodology. It's a "zero to hero" type story written decently, but told with a bit too much enthusiasm and quirkiness for me. That said, the facts are undeniable, and Dr. Biasiotto's obvious dedication to the sport and his confidence in himself and his system shine through.
I was drawn to the book based on his personal story more than anything. He says, "I learned to play the game of power-lifting above my shoulders. Through scientific means, I learned to take control of my environment, the people in it, and best yet; I've learned to take control of myself. The secret to my success and strength lies in these abilities." He won 4 world championships and set 14 world records including an unprecedented 603-pound squat at a bodyweight of 131, at 44 years old, after spine surgery. Drug-free. He's bad to the bone and deserves credit and attention. The book is his effort to describe his experience and create a learning manual for others.
Though the story is fascinating and serves to support the importance of mental/emotional training, I was let down in the details of his own specific success. I was drawn to the book because I wanted to know exactly what he did, and when. I wanted the nitty-gritty – his day to day – that's the bait of the book. There isn't much of that. However, there is still plenty of differing and useful ideas, methods, techniques, and strategies. I just found myself wondering throughout the entire book, 'How can a person employ all of this?' And always, 'Did he use this idea/technique? If so, when? Where?'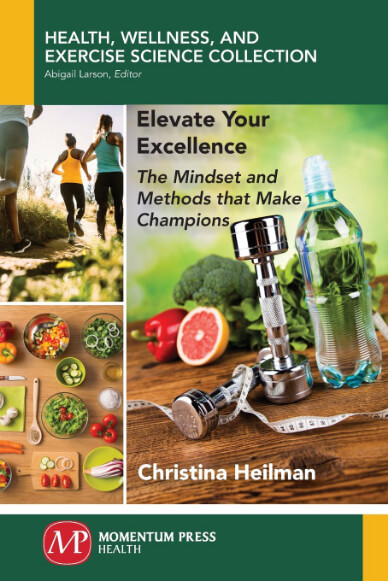 This is a simple and straightforward peer-reviewed sports psychology text in a series of several books on health, wellness, and exercise science. It is approachable and practical, and I believe it to be a great resource for laying a foundation of understanding about mental and emotional skill training. It includes some of the most fundamental concepts in the field with supporting theory and research, as well as some instruction and practices.
Personally, I have worked closely with Dr. Heilman for over 3 years now. In the beginning, it was more intensive, as well as in several other periods. It's been an ebb and flow. I have learned a lot and encountered a great amount of useful material through the work. She has helped me in many ways – challenged me and held me accountable. She is grounded and uplifting and positive, yet open to the mystical/magical/spiritual. Her light serves to balance my darker, more cynical, more negative tendencies. My life is better because of her – more health and balance, more peace, more contentment, and yes, even my best athletic accomplishments. Straight up.
Though a quick read, her spirit comes through in the writing. She is an avid climber, skier, and mountain runner, so her perspective and application are particularly useful with those pursuits, though the book doesn't get that deep. Her skill set is broad and impressive. That coupled with her experience in the mountains make her a very special person. She's been a guiding light for me in these last few years, particularly – as tends to happen often in the mountains – when people around me have died. The mountain life and culture, though beautiful, can be brutal, and she's helped me to make a little more sense of this crazy ass existence.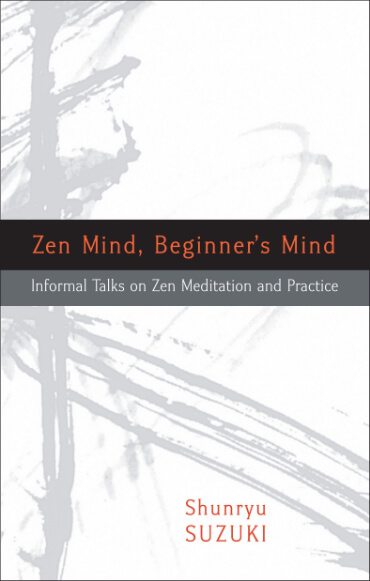 I first encountered this book half my lifetime ago. As the case with so much Zen, it can be confusing and even seem contradictory. There are smoke and mirrors with words always attempting to explain unexplainable states of being and existence. It sometimes feels like wandering around in a labyrinth, but then there are sudden moments of extreme clarity and sense and beauty. They are not predictable. They even shift through time. I've gone back through this book at several points in my life, and things that offered clarity before, I may gloss over now. But, then I notice other things – words, phrases, ideas – that maybe I completely missed before and they catch me now. Like rays of light on the surface of the water that can be blinding, it's a timing thing. It might also be a readiness thing. Each time I go back to the book, I'm a bit different. I have a different perspective and experience. Different eyes and ears, so to say.
In any case, what is helpful about this book is that the language is quite simple. It's oriented for a Western audience. In addition, it has offered wisdom to masses of people on the entire spectrum – young to old, ignorant to wise, athlete or not, Buddhist or other. It is frank and direct transcriptions of talks given by Suzuki. It was published in 1970 and is considered one of the most influential books on Zen in the Western World.
I remember going through it for the first time and finding it playful and mysterious. I remember thinking how amazing it would be to move through the world in the way that Suzuki describes. I thought it was about learning and accumulating. Interestingly, now I more often ponder unlearning, undoing, deconditioning. A beginner sees very few options. The master has seen all the options, but only employs few. The master has learned and becomes aware of many, many more possibilities, yet only employs what is necessary for him/her in that time and place. In that way, the master's work seems simple. To me, it's about learning everything that I can and then refining the approach and timing and combinations to make it as efficient and simple as possible. For me, it's about finding the most elegant way through the sea of approaches, styles, philosophies – aware but not entangled by them – able to use them, and able to let them go.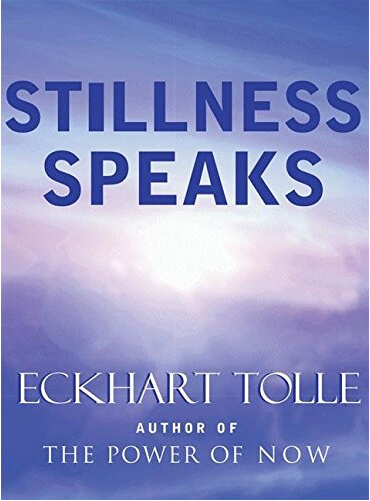 Written by a modern spiritual leader, yet not expressly connected to any particular tradition or religion, this is a short and useful text. It's a fun little book to have around as it can be open to any page and read. It's a compilation of powerful entries that can be quickly absorbed. The suggestion in the introduction is to interact with the book slowly, taking care and time, even saying – "Live with it. Pick it up frequently, and, more importantly, put it down frequently." It's nice that you can open it to any page just to see what is there.
The overarching theme is to try to slow and calm down and be in the present – in the Now. In doing so, we might be able to recognize that we are not our thoughts or emotions. It suggests that through stillness – a particular state of consciousness – there is more peace, fulfillment, understanding. The concepts are not complicated or new, but the language and perspective are fresh, as are the references to many of the world's formal religious traditions, yet without an attachment to them.
This book was recommended to me by Sports Psychologist Dr. Christina Heilman (from above). She came to understand that I have a great propensity for wanting to be somewhere other than where I am – somewhere further, stronger, more accomplished, etc. This attitude tends to encourage speed – rushing and quantity over quality. One of her first tasks was to try to get me to slow down. This book really helps with that because of the way it's written: There's no point to consuming too much at any one time. The format forces contemplation, as well as makes it easy to travel with and always have around.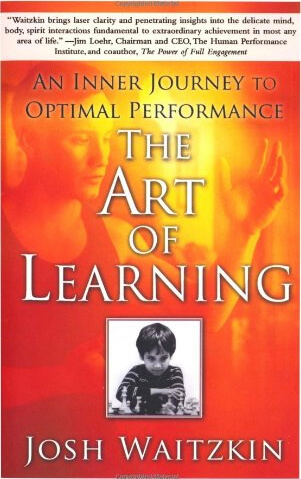 This is a fantastic book written by the subject of the book and movie Searching for Bobby Fischer. The subtitle is An Inner Journey to Optimal Performance. Waitzkin was a chess prodigy as a child, whose love and passion changed dramatically from being in the spotlight of a Hollywood movie, in addition to having a difficult relationship with a coach. From there, he was drawn in an entirely different direction to Tai Chi Chuan. He applied strategies and learning techniques from chess, and he quickly won a World Championship. This is unheard of and almost unexplainable.
The book itself is the story of Waitzkin's path to victory in Tai Chi and includes ideas and references that illustrate the importance of mind-body integration. From the writing, you can feel how massively intelligent and dedicated he is. His accomplishments in chess and Tai Chi are staggering. However, he has taken care to explain his thoughts and process. You can tell he wants regular people to be able to better themselves through his discoveries. It's an engaging read with a very blue-collar feel to it – an attitude of work hard and smart, and you'll get yours. I appreciate that attitude very much, but to be clear, he is a full-on genius, somehow predisposed to ultra high-level intellectual capacity. He's just used that capacity with compassion and empathy to be able to relate to the rest of the population that isn't at that level. Ultimately, though, there is great storytelling, personal experience, and fact mixed with theory, philosophy, and spirituality.
Personally, I was enthralled with Searching for Bobby Fischer. I don't know how many times I've watched it. In some ways, this book is a sequel. I've always been fascinated by how singular items can have great polarities. Chess can be analytical, mathematical, boring, yet extremely creative and beautiful, artistic even. Tai Chi is physical movement and breathing, yet there are mental, emotional, and spiritual components. Climbing seems like this to me. It can be seen as a sport, and as the industry grows with all the gyms and all the new people, it's certainly looking more like fitness and exercise in more urban settings. In contrast, I'll always see it as a way of life. I'll always view it holistically, connected to everything in my life, and connected to the natural world. Chess didn't seem like a game to Waitzkin: It permeated the fabric of his being on every level. Through it, he seems to experience the meat of life, and that is much like I've felt through climbing. This book evokes in me the sentiment that it is important not just to find things in life to do, but things to truly live for.
Those books stand out to me, and have recurring and varying importance, as well as use. That said, they are just the tip of the iceberg. Here are some of the other titles I've enjoyed in my ongoing reading:
About the Author
I was introduced to climbing through sport climbing, and it is my main pursuit. However, I have taken to many styles: traditional climbing, bouldering, deep water soloing, ice and winter mixed climbing/dry tooling, and mountaineering and ski mountaineering.
Before climbing, my life was consumed by alpine skiing and ski racing. I have skied since I was 2 years old. I began racing at the age of 12, and when I was 16, I moved from Michigan to Salt Lake City, UT to attend Rowmark Ski Racing Academy. After that, I was recruited to ski race for the College of Idaho.
I love the mountains, and love to explore them in a variety of ways.
Athletic Highlights:
First ascents/new routes on 5 continents

Documentary film – Rooted: Climbing Lebanon

Summiting Mt. Everest in May of 2012

Sends up to 5.14d, V11, M13, and WI6, and on-sites up to 5.13c and M11

Free climbing ascent of Yosemite's El Capitan's PreMuir route, 35 pitches, 5.13+

Many Ice Competition podiums

Skiing since 1985
TrainingBeta is a site dedicated to training for rock climbing. We provide resources and information about training for routes, bouldering, finger strength, mental training, nutrition for climbers, and everything in between. We offer climbing training programs, climbing training classes, nutrition classes, regular blog posts, interviews on The TrainingBeta Podcast, personal coaching for climbing, and nutrition for climbers.