Projecting limit sport climbs is a process. It's a process with lots of pitfalls along the way. Many climbers sabotage themselves both on the route and in their preparation beforehand, but ultimately, there's an art to projecting. We've done our best to outline the process before, but there's no substitute for going through it yourself. What you learn from projecting a climb at your limit is invaluable and can be applied to both future projects and training cycles.
Today's installment in the How I Trained For series deals with this projecting process, but it's a little different. It doesn't follow the normal arc of tried a route, knew I needed to be better/stronger/fitter, put in the work, and sent. Instead, it follows Western Colorado-based climber Danny Roberston and his journey to climb progressively harder sport routes in his home area of Rifle. In it, Danny takes you through his and his wife Wendy's weekly training schedules, how they prioritize different elements of their training during different parts of the year, and their process of working their limit sport climbs as weekend warriors.
While Danny does outline the nuts and bolts of how he and Wendy train, I think there's a bigger lesson to be learned: Danny and Wendy are students of the process, they are willing to do whatever it takes to work towards sending their dream routes, and, most importantly, they are constantly learning from past failures and successes along the way. Definitely pay attention to the details of Danny and Wendy's training. There's a lot we can all learn from them, but make sure you don't miss the bigger picture of the process as a whole.
We'll let Danny take it from here…
What I Learned from Sending the Crew – A Process for Working Limit Sport Climbs
My wife Wendy and I live in Carbondale, CO. We're weekend warriors in our forties. The Western Slope of Colorado doesn't offer great climbing gyms, but what it does offer is lots of sunshine and limestone, and Rifle is the main attraction. When the Rifle season closes down, south facing crags provide outdoor climbing opportunities throughout the winter. We climb outside more weekends than not. The Monkey House bouldering gym recently opened in Carbondale. Before that, we climbed on a MoonBoard built in our friends' garage and we also bouldered at a facility located in a private high school.
From 2001 to 2013, I worked my way through most of the routes at Rifle up to the grade of 5.14a. In the fall of 2014, I stepped way out of my comfort zone to project The Crew 5.14c. I did eventually send the Crew in November 2016. Mistakes I made in my training resulted in two injuries that slowed the process of redpointing the route. The tactics I developed while working The Crew led to significant progression in my climbing. The experience informs how Wendy and I now approach hard projects.
I'm going to list the elements of our climbing practice. Then, I will lay out these elements in weekly schedules.
On the Rock Practice Elements:
Cut the route into smaller pieces and do repetition drills on the individual pieces.
Here's the breakdown of my current project, Bad Girls Club 5.14c.
Part One: 5 bolts. Crimpy V7 boulder to jug followed by V9 boulder.
Part Two: 9 bolts. Big jug rest followed by 5.13d endurance pitch to gain a sideways kneebar in a roof.

Area of need: recovery and endurance.

Part Three: 2 bolts (both of which I skip). Leave kneebar. Do a V5 approach problem directly into V8 roof problem guarding the anchor.

Area of need: belief. This is by far the hardest finish to any route I've ever tried.
At first, my goals on the route are very isolated. Let's say I decide out front that this try I will work Part 3: climb from the kneebar to the top. To reach section three, I will hang on each draw and pull on draws past sections so that I can conserve as much energy as possible. When I reach the kneebar, I try the section three times. After falling, I return to the draw at the knee bar, rest about 2 minutes and then repeat the effort. After failing to complete the section on my third try, I move the starting point upward to isolate the moves giving me trouble. I do three repetitions on this smaller part of the section and then call it quits for that try.
On my next try, I will focus on Part 1. I do my best effort from the ground. After falling, I do three repetitions on the V9 boulder starting from the clipping jug. If I fail to complete the entire boulder, I will move my starting point up to isolate the final move of the boulder for three repetitions. That concludes my Saturday work sessions on the route.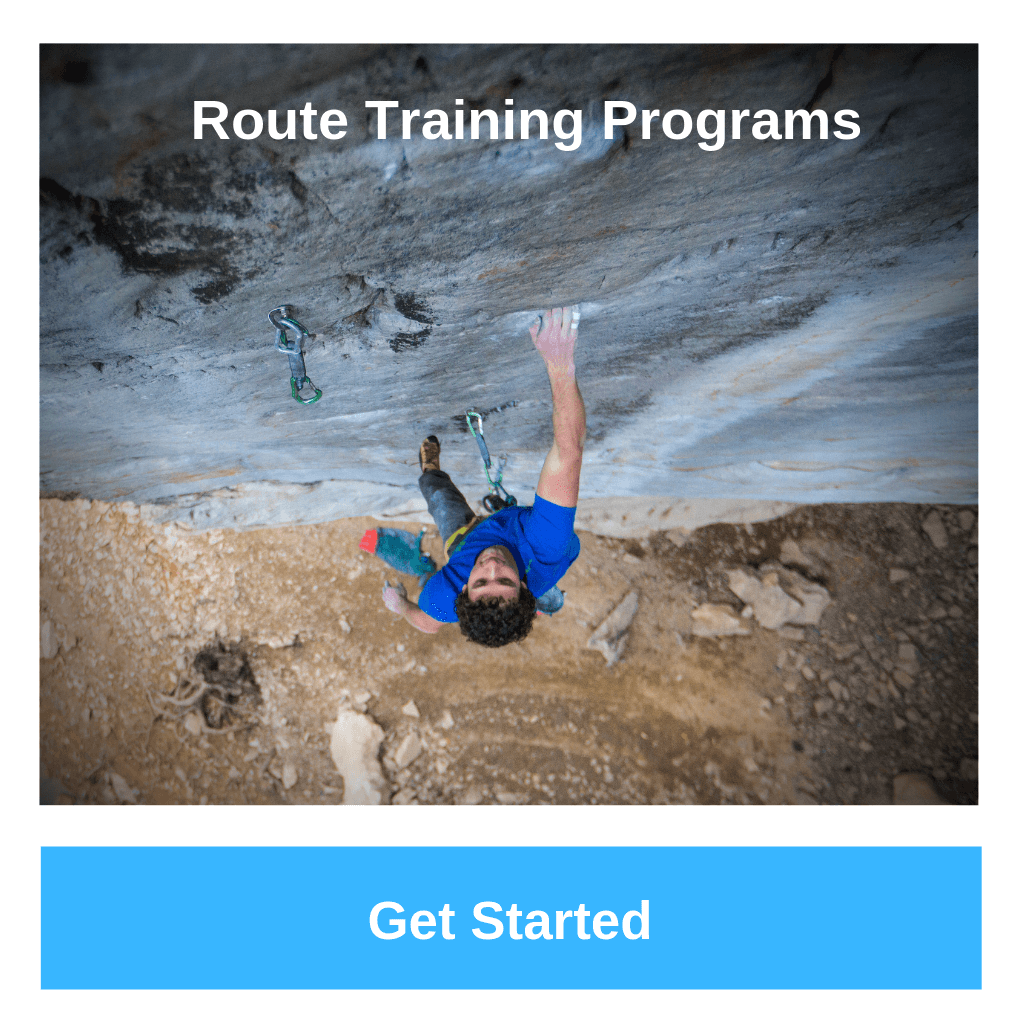 Sunday's focus will be endurance. I'm going to try the Part 2 endurance section. I make my way to the jug rest and attempt the section. When I fail, I lower, unclipping my rope from draws along the way to start again at the jug rest position. I will start higher in the section after failing to complete it my third try making sure to practice every part of the section.
Success on these isolated sections will evolve into goals for combining larger sections of the route and eventually redpoint tries. Saturday will be dedicated to redpoint tries. We will revert to repetition drills on Sunday when we're too tired to give quality redpoint attempts.  
Here are some key practice elements of this strategy:
Go for the plus.

Climbers in world cup competition get a score of 35 for controlling hold 35. A plus is added to their score when they slap for hold 36 but fail to control it. I always go for the plus when doing repetition drills. It can be inconvenient to take repeated big falls, but I want to avoid training myself to give up when moves are hard. Strength gains can be made by initiating a move and propelling myself toward the next hold even though failure is imminent. I know to send the route I will have to do hard climbing in a depleted state. By practicing going for the plus, we train ourselves to go for it while on the margin of failure.

Wear a watch on your harness. You'd be surprised how little you rest when you are hanging on the rope. Recently I watched a climber trying the first hard boulder problem of Zulu 14a. He threw himself at the move and fell. Not 30 seconds passed before he was back on the wall trying the move again. Naturally, his efforts deteriorated until he lowered cursing about how weak he felt.
I wear a watch on my harness to time my rests between repetition drills so that each repetition can be a quality effort. 2 minutes feels like a surprisingly long time while hanging on the rope. Odds are we are resting much shorter time periods than we imagine when we are working routes.
Have a Companion Project
While working a limit project, we like to try routes that are several letter grades to a full number grade below our main project. Limit projects beat us up physically and mentally. We may experience success after a lot of time and hard work or perhaps we won't achieve the goal of redpointing our limit project at all. Companion projects provide us with the chance to send more often. The joy of sending a route can bolster motivation during the long process of limit projecting. Companion projects also help our fitness, particularly in the early phases of figuring out a route when we're hanging a lot and piecing together sequences.  
Wendy was projecting The Anti-Phil 5.13b, which is shaded in the afternoon. She paired The Anti-Phil with routes shaded in the morning like Drunken Monkey and Handy Boy; both mean, bouldery 5.12d routes. Her improved performance on The Anti-Phil was paralleled by quick redpoints of two 5.13a routes, Bong Thirty and Frizzle Fry. As she was working a limit project, Wendy stacked up redpoints of routes a few letter grades below her maximum capacity, not only getting some sends but building momentum as well.  
It varies where a companion project fits into the weekend of climbing.  We may try our companion project as a final warm up before trying our limit project, or we may try at the end of the day when the work is done on our limit projects.
Off the Rock Practice Elements
Sunday evening we return home reflecting on what we need to improve in order to ready for the next weekend's session on our projects. There is a lot to fit into the week. We work full time, we have to heal skin and recover from abuse of climbing and we also want to squeeze in some training to be as strong as possible for the next bout with our projects. The mistake I made in the past was trying to do too many things at too high a volume. I'm trying to be smarter and avoid injury by limiting the volume of training I do during the week. The goal is to squeeze as much benefit out of the limited time we have and not do something stupid that would result in an injury.
Here are the practices we do during the week:
Yoga
Wendy often goes to yoga class. I don't like the pressure of finding the right pants to wear, plus I get overwhelmed in yoga class. I do yoga at home using the Down Dog yoga app on my phone. The Down Dog app can be customized to meet your desired experience. I can set the time for the practice. It can be set to be a therapeutic recovery session or dialed up for a punishing core workout.

Hangboard Warm Up
We do an abbreviated hangboard workout 1 time per week before bouldering. Here is how it works:
We use the Trango Rock Prodigy hangboard at home.

Start with a Dynamic Warm Up
We begin with the biggest grip and hang on each grip 2 times following this pattern:

Hold 1: Hang 5 seconds, rest 5 seconds, hang 5 seconds.
Rest 10 seconds
Hold 2: Hang 5 seconds, rest 5 seconds, hang 5 seconds.
Rest 10 seconds

We follow this progression through 9 holds of decreasing size until we have hung a 1 pad edge and a 2 finger pocket.
Now we select one or two grips of focus and do 10-second max hangs. I don't use crimps for max hangs because crimps will be heavily used in bouldering and outdoor climbing. Instead, I focus on the lesser used pinch grip and two finger pocket. Here's what the abbreviated workout looks like:
Hang 10 seconds under heaviest possible load. A goal of mine is to hang the pinch for 10 seconds with 25 pounds of added weight.

Rest 3 minutes.
Repeat this pattern for 3 repetitions per grip.
After finishing our two max hang grips, we are well warmed up for bouldering.
Key Practice Elements for Hangboarding:
We hang strong so we can squeeze the greatest benefit from the limited time we have to exercise.
In the picture below I'm hanging badly like a sack of potatoes from my fingers. The shoulders and core muscles are not engaged.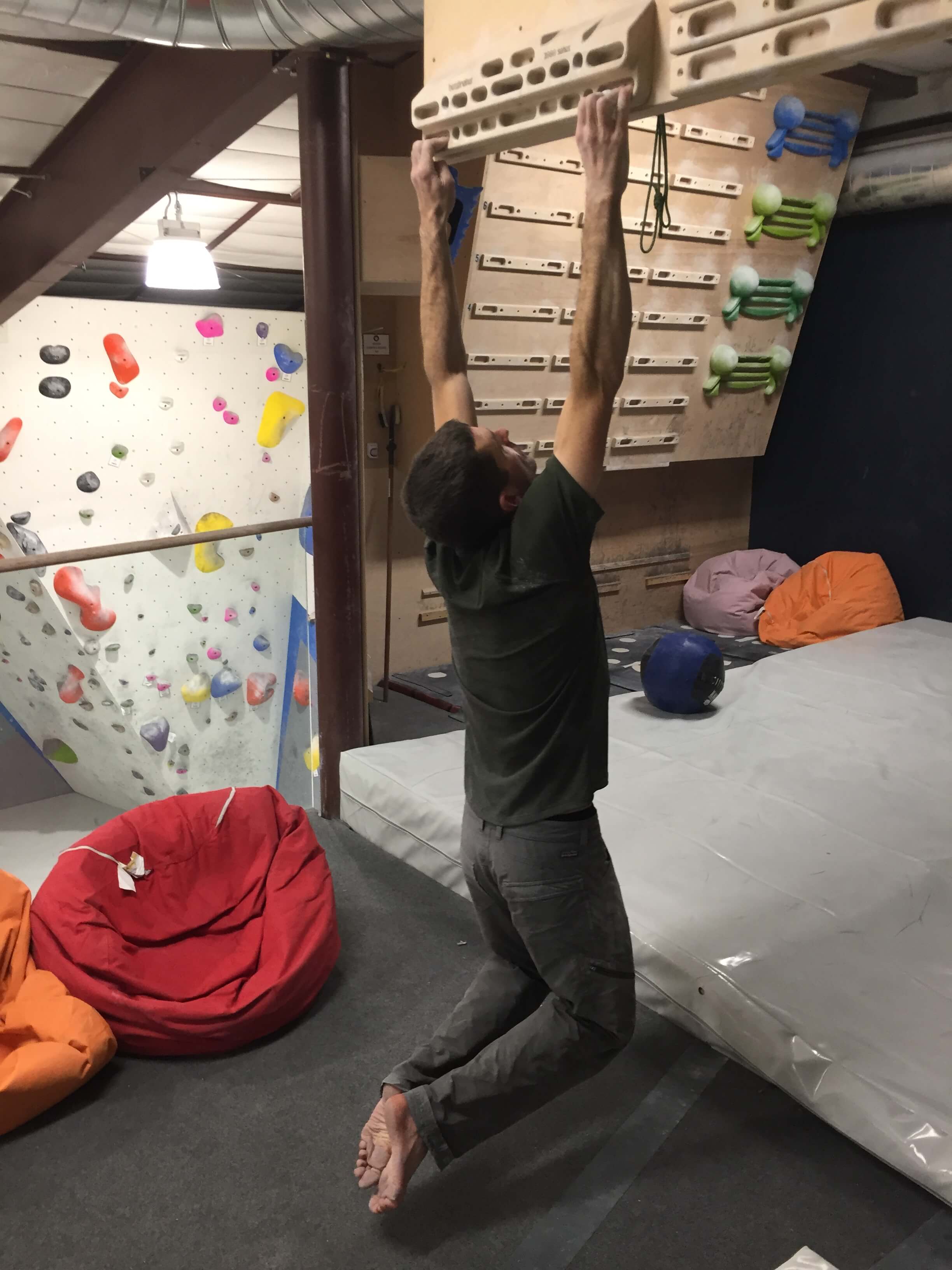 In this picture, Wendy hangs strong. Glue the shoulder blades together and create space between the shoulders and ears. Engage the leg muscles and point the toes. In addition to the fingers, this works the shoulder stability as well as core strength.

Bouldering on Plastic:
Limit Bouldering: 

Climbing on the MoonBoard is our second favorite pastime after outdoor climbing.
We do max bouldering sessions where we try really hard problems. We have our outdoor projects in mind as we are bouldering and choose or make problems that simulate their cruxes.
For example, the cruxes of The Anti-Phil involve long moves that stretched Wendy's 5'2" frame to its limit. Wendy has very high static strength and gravitates toward locking off moves. In her bouldering sessions, Wendy set about adapting her style to the route and practiced moving dynamically. The MoonBoard served as a great tool for this because many of the problems found on the app are set by taller people and involve long moves between bad holds. Wendy's indoor training shined on the Anti-Phil as she attacked the cruxes with a new explosive style and conquered the sections that had previously shut her down.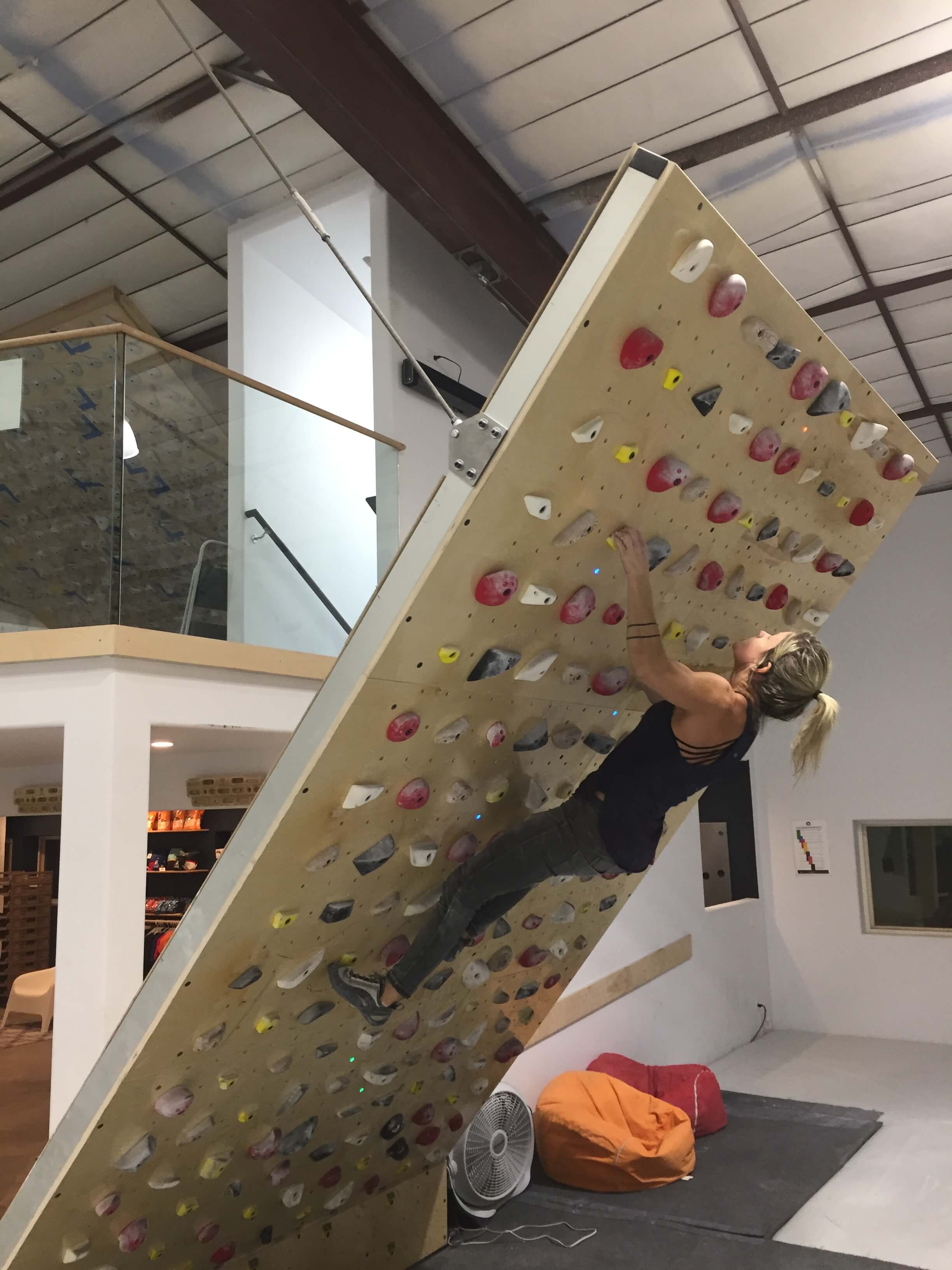 Endurance Work: If we are going to work endurance climbing indoors, we do 4×4 climbing drills. We choose 4 problems graded moderate to low compared to our max boulder grade. In each set, we climb the problem, jump down and immediately hop on the next problem. It takes some fine tuning to get the difficulty of the selected problems right. We want to skirt the line of high effort and failure on problem four of the set. Here's what the workout looks like

Set 1: We want to complete all four problems. The challenge level on problem four should be at about a 6 out of 10.
Set 2: We want to complete all four again. The effort on problem four is ramping up to an 8 out of 10.
Set 3: This is starting to hurt. We push through problems one through 3. Maybe we complete problem four with some Ondra screams or we fail short of the top.
Set 4: We need to dig deep. We may complete problem 3 or come up short. We are exerting a 9 to 10 level of effort to hang on during problem four.
If we successfully complete 16 out of 16 problems, we modify the difficulty of the selected problems to increase the level of challenge.
Weekly Schedules:
This is how our outdoor and indoor practice elements fit into weekly schedules.
Example 1: Hard Week
We will do hard weeks during the early spring months of March and April when some Rifle climbing opportunities begin.  
Saturday: Hard bouldering day. Do repetition drills on hard sections of the project that are dry.
Sunday: Endurance day. Link endurance sections of the project, try the companion project and/or repeat routes for mileage.
Monday: Recovery and mobility day. Restorative yoga session and/or physical therapy exercises.
Tuesday: Strength and power day. Start with a hangboard warm-up followed by a max bouldering session on the MoonBoard.
Wednesday: Endurance day with the 4×4 climbing drill.
Thursday: Strenuous yoga and core workout day. Do a challenging Vinyasa yoga session with a focus on core work.
Friday: Recovery and mobility day. Restorative yoga session and/or physical therapy exercises.
The hard week schedule is very taxing. We spend most of the time feeling horrible with aching joints and sore skin. We limit the duration of time we do this schedule to about 3 weeks before taking a week off from indoor training or switching to a different schedule. We do this volume of climbing hoping to enter the month of May ready with the fitness to give redpoint attempts on our projects.
Example 2: Performance Week.
This is a typical schedule we follow during the months of May to November when the weather is good and we climb outside most weekends.
Saturday: Put the best effort into our limit project. This can be 2 – 3 redpoint attempts or doing repetition drills on the most powerful sections of the route.
Sunday: Include some endurance work this day which can include:

Try the companion project before or after work on the limit project.
Work to link the endurance sections of the limit project.
Repeat routes at the end of the day for mileage.

Monday: Strenuous Vinyasa yoga session with a focus on core work. Despite being tired from two days of climbing, we do the core work Monday so as to have a rest day on Tuesday prior to bouldering Wednesday.
Tuesday: Recovery and mobility day. Restorative yoga session and/or physical therapy exercises.
Wednesday: Strength and power day. Start with a hangboard warm-up followed by a max bouldering session on the MoonBoard.
Thursday: Strenuous Vinyasa yoga session with a focus on core work.
Friday: Recovery and mobility day. Restorative yoga session and/or physical therapy exercises.
Assessing the Season and Looking Forward
The Rifle season came to a close and it's winter here on the Western Slope of Colorado. I ended the season short of the big goal of redpointing Bad Girls Club. I can acknowledge the progress in achieving my subgoals on sections of the route, and also celebrate sends of two companion projects, Cemetery Gates 5.13d and All the Pretty Horses 5.14a. Wendy's send of The Anti-Phil was the highlight of the season. While she had done a lot of routes graded 5.13b, the reachy nature of the route demanded she adapt her style and make gains in her dynamic power to connect the cruxes. That's the way it goes with limit projecting: sometimes our efforts are rewarded with a big send and sometimes we end the season empty handed.
This winter we'll spend sunny days trying projects at south facing cliffs and we'll pass snowy days and weekday evenings bouldering on plastic.
All the while, I will be pleasantly haunted by Bad Girls Club and I will be working to be ready for days in early June when the holds are dry. I hope to progress beyond my last season's performance toward the ultimate goal of sending the route.
About the Author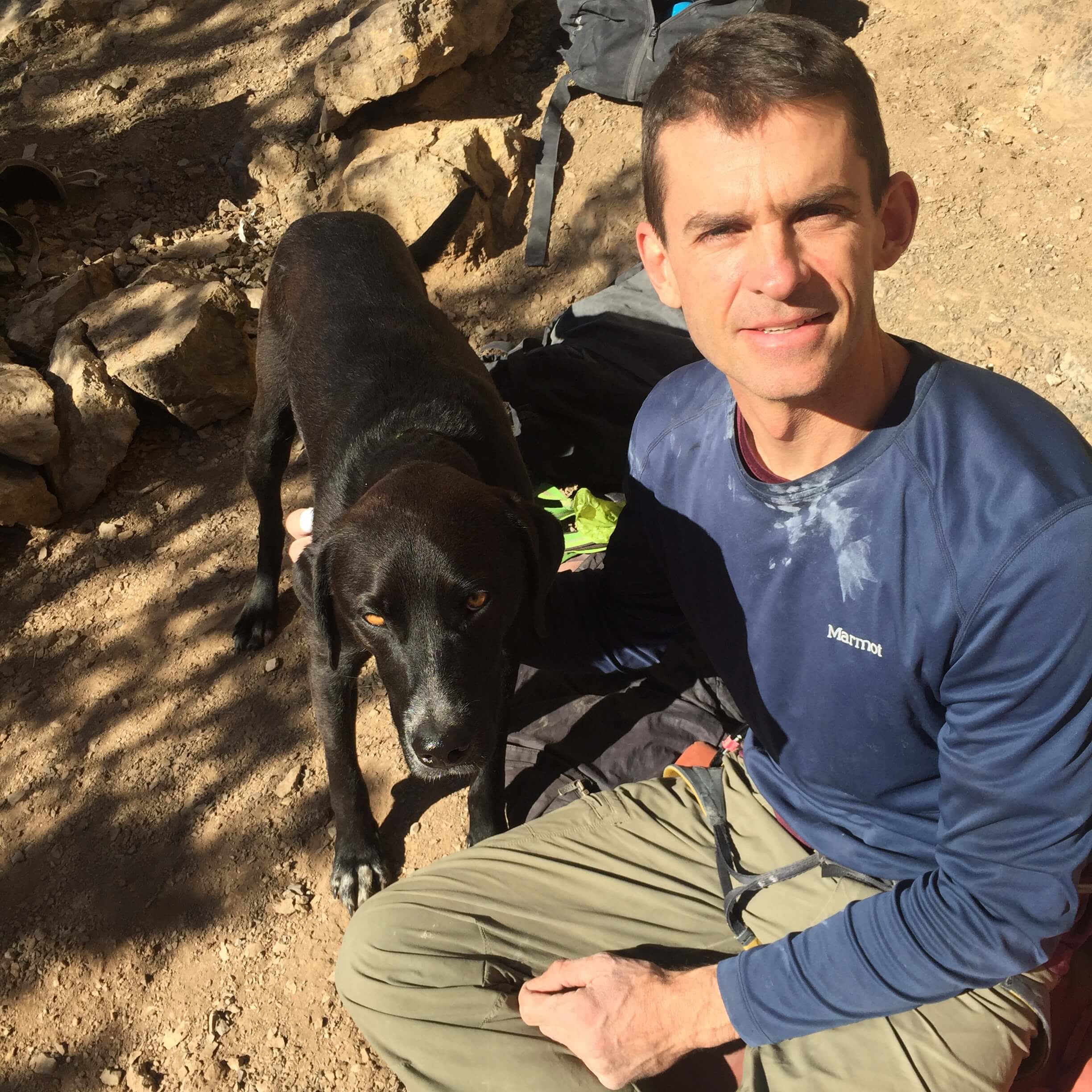 Danny Robertson lives in Carbondale, Colorado with his wife Wendy and their rambunctious dog Remi. He is a truck driver and delivers beer around the Western Slope of Colorado. Wendy is a Montessori school teacher. Danny realizes his good fortune to have Wendy: amongst other things, a motivated and dependable climbing partner. Danny is also grateful to live near crags like Rifle that host more hard projects than he will ever send. While trying to age gracefully, they are steadily getting weaker: more digits are swollen and several joints don't work like they used to. At the same time, they are getting better at the redpointing game. Being better and more clever can go a long way, especially when projecting at Rifle. Danny and Wendy feel their best climbing is yet ahead of them.
TrainingBeta is a site dedicated to training for rock climbing. We provide resources and information about training for routes, bouldering, finger strength, mental training, nutrition for climbers, and everything in between. We offer climbing training programs, climbing training classes, nutrition classes, regular blog posts, interviews on The TrainingBeta Podcast, personal coaching for climbing, and nutrition for climbers.