Personalized Climbing Training Plans
Mercedes Pollmeier is a climbing trainer who's worked with hundreds of climbers with great success. She offers personalized training online to help you reach your goals.
"I'm so lucky to have found Mercedes! She was a critical partner in my rehabilitation from a herniated disc. Not only does she instantly make you feel comfortable, she has a special talent for finding weaknesses and the knowledge to match exercise and drills to push you gently past them. She is very intelligent, personable and caring – an excellent personal trainer."
"The body weight exercises that Mercedes put together for me helped me engage and strengthen muscles that I wasn't using. The program has dramatically helped with my stability, balance, endurance, and overall movement in only a short amount of time. Incorporating these into my training routine has made me a stronger and more durable climber."
"The moral of the story is, when you're injured or recovering from surgery, the very best thing you can do is continue to train. I'm super thankful to have had Mercedes guide me through the process, keep me strong, and help shorten my recovery time by 50%. That's results."
"Training with Mercedes was a critical part of meeting my climbing goals. Not only was she helpful with climbing specific strength training but also guided me in recovery excercises that made a world of difference for me."
"Mercedes has tremendous knowledge of both climbing technique and general fitness. Whether you're a climber, a tennis player, or a triathlete, she will increase your fitness and improve your athletic skill and ability. I would recommend Mercedes highly for anyone looking to improve in their respective sport."
Any Device
Follow your customized plan on the Trainerize App, available on any device.
Ask Your Trainer
Ask Mercedes questions during your phone call and on the Trainerize app any time.
Video Instructions
Video instruction for every exercise showing you proper form and variations.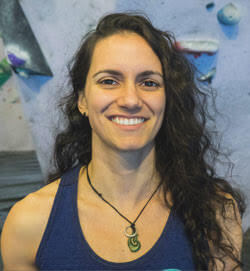 1-Month Custom Training Plan –

$200
In an initial email conversation, you and Mercedes will review your goals, weaknesses, strengths, and limitations (if any). Mercedes will then create a custom month-long training plan for you within a week of your conversation. After you receive your program, you and Mercedes will talk via phone about the program and how you're doing. You'll have continuous contact with her after that via the Trainerize platform.
3-Month Custom Training Plan –

$580
Mercedes is not a "quick fixer". She prefers to work with people long-term so that they can really see gains. With this package, you will receive 3 months' worth of training programming from Mercedes, as well as a phone call each month and constant contact via the Trainerize app.
Mercedes is a Strength and Conditioning Coach based out of Seattle, Washington. She received her Masters in Human Movement and then started working with climbers of all abilities, including elite level/competition climbers in Colorado. Currently she runs specialized performance programs specifically designed for climbers and alpinists in Seattle. She also trains an array of outdoor athletes online, helping them reach their goals with accountability and efficiency.
Mercedes has an extensive background as an elite level athlete, competing in tennis at the collegiate and semi-pro level, as well as a climber competing in ABS Nationals. Her program design not only comes from experience, but more importantly, from research. She believes in solid progressions and individualization of her programs, ensuring continued success for her clients.