With all the sports supplements on the market these days designed to help performance, it's pretty confusing to sort out what is the right one to use in the right situation. Should I be taking creatine even though I don't want to look like a bodybuilder? Should I take beta alanine when I am out climbing even if it makes my skin itch so bad I want to scratch my face off? Will BCAAs help me send my project? 
These are all legitimate questions and it pays to have a healthy sense of skepticism about supplements. There's a lot of information and a lot of products out there. Some are good and some are not so worthwhile.
To start, if you are considering sports nutrition, you are already ahead of most people and are likely on the right track. The way I try to sort through all the information and latest trends is similar to the way I approach the abundance of hangboard protocols out there: Keep it simple. On the Hangboard: Try hard in a 1/2 crimp. For nutrition: Eat nutrient-rich whole foods.
Obviously, there is a little more to it on the hangboard, and, when it comes to performance-related nutrition, the same is true. That said, I use sports supplements and find they definitely help with performance and aid in recovery. Most of them, however, are not created from real food and are certainly not a substitute for real whole foods. 
Recently, however, Gnarly Nutrition has introduced a new product called Gnarly Performance Greens. As a Gnarly Athlete, I've been using Performance Greens and am excited about it as I see them bridging the gap between sports specific/performance oriented nutrition, a multivitamin, and a whole food-based, micronutrient dense dietary supplement. 
Now, before we get into exactly what's in the Performance Greens and how I use them, we need to quickly cover why climbers would even want to take greens in powdered form in the first place. Essentially, supplementing with a product like the Performance Greens increases the number of vitamins, minerals, and other plant nutrients one consumes. While a supplement like this one doesn't fully cover your micronutrient needs, getting more of these vitamins, minerals, and nutrients is good not only for your overall health but can also help with energy levels. Additionally, because you are getting these micronutrients in a dried powder form, you are doing so without having to eat pounds and pounds of actual plants. This is not only convenient but is also nice as you get the nutritional benefits without adding too much more food, carbs, and calories to your actual diet.
What's In Performance Greens?
As the name suggests, at the heart of Performance Greens is a blend of concentrated plant-based nutrition, which comes from more than a dozen nutrient-rich vegetables including at least 200mg of chlorella, spirulina, oat grass, wheat grass, barley grass, alfalfa sprout, spinach leaf, and kale. 
What is really awesome is that the list of all ingredients and their amounts are clearly printed on the package of Performance Greens instead of being hidden by a proprietary blend label as is the case with most other greens based products on the market today. Without going too far into the ways in which a proprietary blend allows companies to make claims about their product without actually giving you the nutritional information to back it up, I would prefer to focus on how Gnarly is totally transparent with both the ingredients and amounts of each ingredient in the Performance Greens. As a result, you know exactly what you are getting, which is particularly helpful if you have any food allergies or sensitivities. 
FYI, Performance Greens is a 100% Vegan, dairy free, soy free, gluten free and GMO-free. For a full ingredient list click on the link below to the Gnarly Website: https://gognarly.com/product/gnarly-performance-greens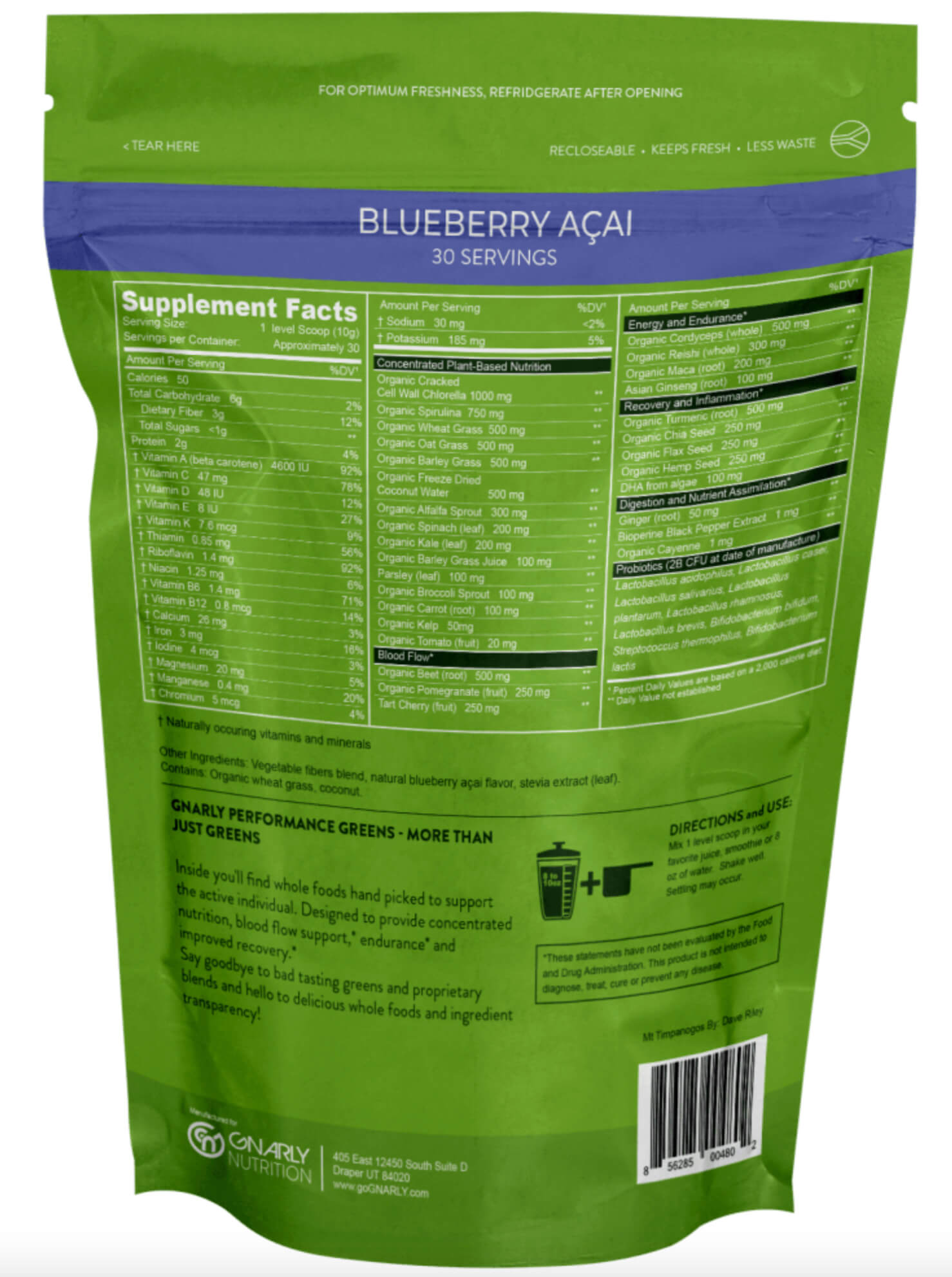 Beyond the specific ingredients, suffice it to say that I have found Performance Greens to be an excellent dietary supplement and component of a meal replacement. In addition, because Gnarly has added concentrated forms of the other real foods targeted for their specific benefits, I have found that Performance Greens has the added versatility of aiding in my performance oriented nutrition and recovery. Exactly how I use Performance Greens and their benefits in these areas are covered below: 
Dietary Supplement
There are plenty of situations in life whether out at the cliff, working, or training where access to real food is not realistic or, at the very least, not convenient. In all of these situations, I feel confident that I can use Performance Greens as a nutrient-dense dietary supplement. 
One of the best uses I have found for Performance Greens is to supplement my diet when traveling. Whether I am heading to a far away country and I am not sure about access to fresh vegetables or I'm stuck in the Phoenix airport for 3 hours – as I am now – with nothing but fast food in sight, I now have an option that will help me get some well-needed nutrients to support the food I do have access to. While this still requires you to plan ahead and pack both a shaker bottle and the Performance Greens themselves, it's certainly easier to do than traveling with fully prepared meals.
The other great thing the Greens has going on is a probiotic component to help with digestion and immunity – both of which are significant issues for me when traveling and are great to have any time.
Meal Replacement
When I combine the Blueberry Açai with the Gnarly Whey Protein (either Chocolate or Vanilla), I find it to be a super satisfying and nutrient dense shake that gets me both high-quality protein and real vegetables and can really keep me going until I get to my next real meal. Calorically speaking (50 calories per serving), I wouldn't consider this shake to be a full meal replacement even with the addition of whey protein. That said, with the protein from the whey, the nutrient profile from the Performance Greens, and the addition of a healthy bar or some fresh fruit and nuts, I can get a few hundred high-quality calories that I find to be really delicious and satiating. These shakes don't take the place of my meals, but during a long training session or a big day at the cliff, when I don't necessarily want to eat a full meal, but I also don't want to run out of fuel and tank, these small but substantial snacks are my go-to for an easily digestible and readily available energy source.
Pro Tip: Since the Performance Greens are vegan, you can sub the Gnarly Vegan Protein blend for the whey for a totally vegan meal replacement. The Gnarly Vegan also has more calories per serving than the Gnarly Whey Protein making it a potentially better option if you're looking for a more calorically dense shake.
Athletic/Performance Supplement
The Performance Greens are packed full of high-quality ingredients that can help your athletic performance in a variety of ways. They have cordyceps, maca, and ginseng, all of which help with energy levels and oxygen delivery to working muscles helping you to keep pushing when muscular fatigue may normally set in. Additionally, there are healthy doses of beet, pomegranate, and tart cherry – all whole foods which all aid in vasodilation, and thus, help stave off blood flow occlusion, thereby increasing endurance. To maximize these benefits, take Performance Greens before your next training session. 
Beyond these benefits, the other thing I enjoy about using the Performance Greens as a performance supplement is, because everything is whole foods based, I feel less like I am consuming a controlled substance designed in a laboratory.
Recovery
Performance Greens also have strategically added chia, flax, hemp, and algae, which provide Greens with a healthy omega-3 profile that includes DHA (Docosahexaenoic acid). These omega-3's are excellent for connective tissue health and simply for getting good fatty acids in your diet which aid in recovery in all sorts of ways.
Additionally, this DHA profile along with the addition of turmeric, make Performance Greens a highly effective anti-inflammatory which is great to take after a long, hard finger-swelling gym session. Again, since the source is real whole food this reduces my need for synthetic NSAIDs like Advil, which is hard on the liver among other things. For these reasons, I will often use Performance Greens again after my training session to get my recovery started right and stave off unwanted inflammation in my fingers and joints. 
Final Thoughts
Clearly, I am a fan of Performance Greens. What's not to love? They taste great and are packed with high-quality nutrients. 
Performance Greens comes in two flavors: Lemon Mint and Blueberry Acaii. I am personally partial to the Blueberry Acaii as I think it blends better with my vanilla whey protein, but both are great on their own. The texture is not chalky or gritty and shakes up well with a standard shaker ball cup. 
Personally, beyond the taste, I think the best part of Performance Greens is their versatility. You can really take them anytime and they will be beneficial. Whether you use them for daily nutritional support, for athletic specific supplementation to help fuel for and recover from your climbing/training sessions, or for both, Performance Greens have clear benefits. 
At this point, I have incorporated them into my nutrition program in a variety of ways and can honestly say I have been feeling great. As an athlete concerned about the food I eat, Performance Greens certainly haven't taken the place of real food. Instead, they have become another tool I use to stack the nutritional deck in my favor. Beyond that, all I can say is I would truly recommend this product to anyone because we could all use more greens in our life!
Cover photo: courtesy of Savannah Cummins
About The Author: Dan Mirsky
Dan Mirsky is a New Yorker who got stuck in Colorado years ago. He has been climbing in Rifle for over a decade and has no plans to ever stop. When he is not climbing in Rifle, Dan can be found traveling in search of warmer temperatures and great climbing. In the last few years, Dan has also established himself as a successful climbing coach and trainer working with climbers of all levels out of The Front Climbing Gym in SLC.
After 10 plus years of hard sport climbing, Dan still considers himself a student, learning how to be a better rock climber every day. He has redpointed 30+ 5.14 rock climbs up to 5.14c all across the country, including Fat Camp (14c), Route of All Evil (14b), 50 Words for Pump (14b), Bad Girls Club (14c), Lungfish (14b), The Crew (14c), and an FA of Solid Gold (14c), the direct line to Golden, to name a few. He is always psyched to climb and psyched to see others succeed. He also has an impressive memory for beta, so if you're projecting something he's done he can give you all the details….
TrainingBeta is a site dedicated to training for rock climbing. We provide resources and information about training for routes, bouldering, finger strength, mental training, nutrition for climbers, and everything in between. We offer climbing training programs, a blog, interviews on the TrainingBeta Podcast, personal training for climbing, and nutrition for climbers.