Have you ever wondered what you should eat when you go climbing? Ever considered going vegetarian like Honnold or Siegrist just so you could crush 5.14s? Or fear that your diet could be holding you back?
As a health-conscious athlete, it's natural to wonder these things. And when it comes to nutrition, finding answers to these questions can be confusing and exhausting, but this dietitian is here to help!
My name is Aicacia Young, and I've had a passion for nutrition ever since I was in high school. I studied nutrition at Louisiana State University, which is where I also discovered rock climbing for the first time.
When I first started climbing in 2010, I looked to my sports nutrition resources for some climbing-specific nutrition advice but couldn't find any. I scoured the internet but couldn't find any guidelines that were intended just for rock climbers.
So, I gave up on my search and just followed some basic sports nutrition guidelines meant for other sports. After I graduated from LSU, I completed my 1200-hour dietetic internship at the University of the Incarnate Word in San Antonio, Texas, and shortly thereafter passed my registration exam to become a Registered Dietitian.
Once I was fully licensed, I spent 6 months working under a Functional Medicine physician in Austin, Texas. This position taught me a great deal about functional nutrition, food sensitivities, lab testing, and supplements, but the inflexibility and stressful environment of the office were numbing to my soul.
I finally decided that an office job wasn't for me, and I began brainstorming other options.
After much internal debate, I decided to create my own health blog for climbers (Climb Healthy) as well as my own nutrition guide.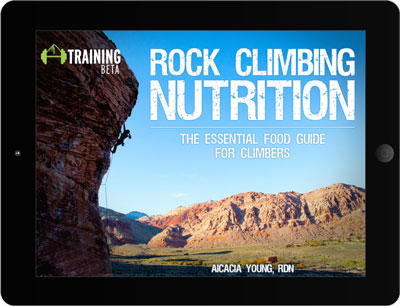 My Rock Climbing Nutrition eBook
It's a 66-page digital nutrition guide written specifically for climbers that discusses:
the basics of metabolism
theories of sports nutrition
climbing and rest day guidelines
tips to prevent injuries and illness
supplement recommendations
sample 2-day meal plans for
omnivores
vegetarians
vegans
and paleo athletes
and over 15 delicious recipes
This eBook also reveals the eating habits of several professional and amateur climbers, including:
Ethan Pringle
Heather (Robinson) Weidner
Neely Quinn
and Steph Davis

Here's what's in the book in full detail…
I spent a great deal of time ensuring that these recommendations are current and supported by scientific studies, so I hope that you enjoy this guide and find it useful in your climbing endeavors!

No, thanks. Take me to the other climbing training programs.