Stop Climbing Injuries Before They Start
This post was written by Jared Vagy, the Doctor of Physical Therapy and climber at theclimbingdoctor.com. He wrote this fantastic guide on preventing climbing injuries – something we could all use – and here's what he has to say about it.
Enter Dr. Jared Vagy…
I was hooked on climbing the second that I touched a rock wall. I loved the feeling of pulling hard on small crimpers and having hundreds of feet of air beneath me. I would spend long days climbing and training as hard as possible. I thought for sure my climbing would improve exponentially. But it didn't. So I trained even harder. It was at this point that I started having injuries. I strained my pulley tendons and injured my shoulder sidelining me from climbing for many months.
During this time, I was completing my Doctorate Degree in Physical Therapy. Through my studies I realized several problems with my training and learned the science behind my injuries. I developed new techniques supported by the latest research and created specific exercises that mirrored movements performed on the wall. I compiled all of my knowledge and resources to develop a specialized training system to peak performance and prevent injuries.
My clients started to have incredible results and word spread quickly. I wanted to spread the knowledge to as many people as possible. So I created a resource that all climbers could access to learn how to prevent injuries and improve performance themselves.  It was from this that "The Ultimate Climber" book was born.
Injury Prevention Guide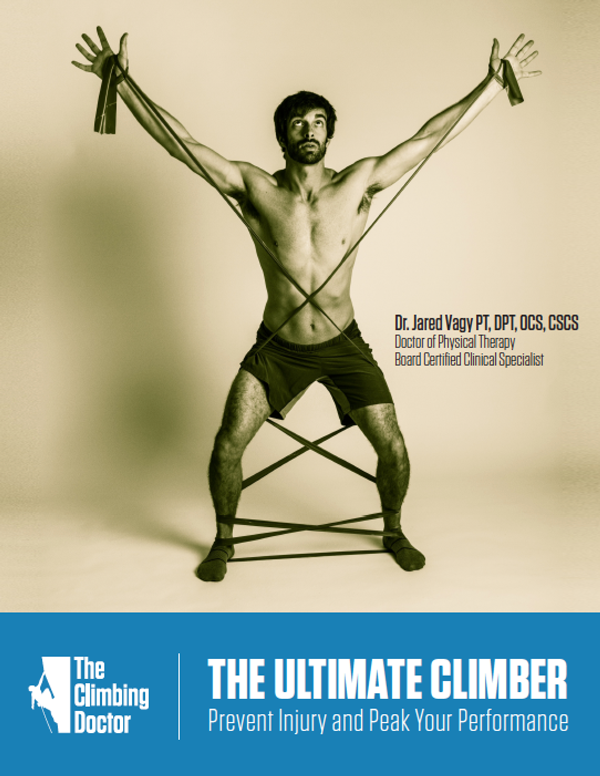 The Ultimate Climber: Prevent Injury and Peak Your Performance is a performance training and injury prevention system that uses innovative resistance exercises that mirror climbing positions. Learn what is holding you back from reaching your true potential and how to take your climbing to the next level.
Product Description
Benefits
Prevent injuries before they happen
Learn mistakes in your training that have been holding you back
Discover the reason why your climbing has plateaued
Understand how to train smart and climb stronger in a fraction of the time
Push your ability to the next level
Features
Downloadable pdf to use on any device
Free downloadable updates
Over 150 high resolution photos
Complete citations and references for all material discussed

---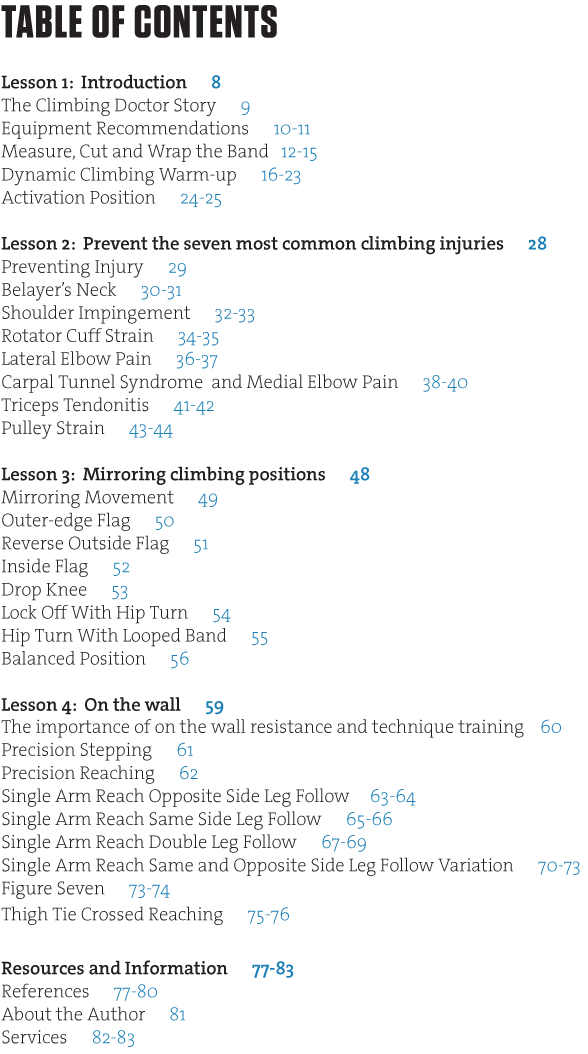 This pdf guide is a must if you want to learn how to climb stronger without injury. The content is based on the most current research and scientific studies and will walk you through the injury prevention process. Practice the techniques in this guide, be mindful about your movement, and begin to take your climbing to the next level without getting hurt.

No, thanks. Take me to the other climbing training programs.